TiVo Publisher for Windows Home Server!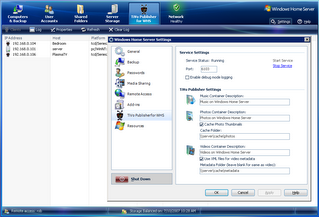 Since TiVo Desktop doesn't work quite right with Windows Home Server, I dug into the TiVo HMO SDK and built my own Windows service that runs on WHS.
It is working very well and I will likely release a beta to my site this week. The videos portion of the code needs a little more work, but it does work.
The screenshot shows the Console tab and the Settings window.
The software is available to download on my new software blog
durfee.net software
.