The Dog Park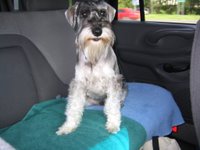 Today we took Polo to the dog park. At Ronald Reagan Park they have big fenced-in dog park areas for dogs to run around and play with each other off-leash. They actually have three areas, one for small dogs (20-pounds or less), one for big dogs, and one long one that runs along the other two for things like running or frisbee. Polo had such a fun time. He wore himself out! Polo napped for pretty much the rest of the night. We are going to try to take him there on a regular basis so he can exercise and have fun with the other dogs and puppies.
Here's a picture of Polo enjoying the car ride on the way to the park.
Here's a link to the
Ronald Reagan Park
website.
Labels: polo