Polo Update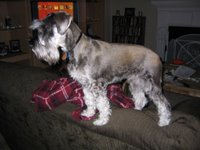 Well, Polo is no longer "broken" -- he has been fixed! Last week Polo had his neuter surgery. The doctor called and said he did very well and was very good. He was so happy when we picked him up the next day and he couldn't wait to get out of there and go home. I was surprised that he recovered so quickly. It was like nothing had happened at all. He got his stiches out today.
He loves to go for rides in the car now. If you go into the garage, he will run in after you and put his feet up on the runner and look back at you. He does really good getting in and out also and is not at all scared anymore.
Tomorrow we start an 8-week beginner puppy training class. I'm very excited for him to go and learn new things, and also for me to learn new things and be a good daddy.
Here's a picture of Polo doing his schnauzer pose on the back of the couch. Cute!
Labels: polo