My Best Friend's Tush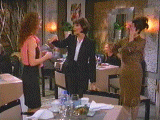 | | | |
| --- | --- | --- |
| Episode # | | 44 (2.22) |
| Season # | | 2 |
| Original Airdate | | 5/16/2000 |
| Writer | | Ellen Idelson & Rob Lotterstein |
| Producers | | David Kohan & Max Mutchnick and James Burrows |
| Director | | James Burrows |
Plot Synopsis
Grace is thrilled when, thanks to Karen's social connections, she gets the chance to land a prestigious client for her interior-decorating firm. The only problem? She must compete with international design goddess Helena Barnes. To help boost Grace's confidence, Karen assumes the alias of "Anastasia Beaverhausen" to dig up dirt on the socialite. Meanwhile, Jack tries marketing an odd invention: a tush pad for riding the New York City subway.
Cast
Eric McCormack (Will Truman)
Debra Messing (Grace Adler)
Sean Hayes (Jack McFarland)
Megan Mullally (Karen Walker)
Guest Cast
Joan Collins (Helena Barnes)
Doug Ballard (Robert Lilienfield)
Ken Lerner (Bob)
Rod Britt (Larry)
Martin Morales (Employee)
Notes
Jack's Subway Tush even included a catchy jingle: "Hey, mon frère, if your derriere could use a little cush, no need to pout, the word is out. It's Jack's Subway Tush!"
Goodies
Airdates & Ratings
05/16/2000 09:00 PM: 10.1/15% #35
07/06/2000 09:30 PM: 07.7/12% #31 — Special Thursday 9:30
09/07/2000 09:00 PM: 07.5/11% #25
Related Links