Steams Like Old Times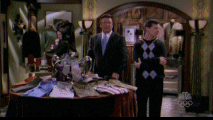 | | | |
| --- | --- | --- |
| Episode # | | 166 (8.04) |
| Season # | | 8 |
| Original Airdate | | 10/20/2005 |
| Writer | | Gail Lerner |
| Producers | | Gary Janetti, Tracy Poust & Jon Kinnally |
| Director | | James Burrows |
Plot Synopsis
Karen is finally forced to come to terms with her feelings for her presumed-dead husband when Jack surprisingly tells her he thinks she belongs with Stanley, not Malcolm. Karen is adamant that she will never forgive Stan and wants nothing to do with him--until Malcolm informs her that Stan has given her to him without a fight. Meanwhile, the new, charitable Will begins doting on the elderly Clyde and invites him to the Tenth Anniversary Game Night Spectacular, much to Grace's dislike. He is worried that he will end up like Clyde one day--a lonely old gay, but it turns out that the old man and Will don't have as much in common as originally thought.
Cast
Eric McCormack (Will Truman)
Debra Messing (Grace Adler)
Sean Hayes (Jack McFarland)
Megan Mullally (Karen Walker)
Guest Cast
Richard Chamberlain (Clyde)
Alec Baldwin (Malcolm Widmark)
Tim Bagley (Larry)
Leigh-Allyn Baker (Ellen)
Notes
Jack and Karen interact with Stan (at different times) in the steam room at his health club, but Stan is covered in steam and not shown. When he is supposed to speak, hissing steam covers his voice. It doesn't work very well, especially at the end. In the high-definition widescreen version, it's very apparent that Karen runs to (and then sits on) an empty bench.
The song Jack sings in the steam room is "Stormy Weather."
Rob and Joe do not appear in this episode.
It turns out that lonely old Clyde is not like Will, but Grace.
Goodies
Airdates & Ratings
10/20/2005 08:30 PM: 05.7/09% #53
12/29/2005 09:30 PM: 03.9/06% #65
Related Links