The Hole Truth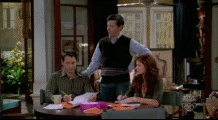 | | | |
| --- | --- | --- |
| Episode # | | 167 (8.05) |
| Season # | | 8 |
| Original Airdate | | 11/3/2005 |
| Writer | | Sally Bradford |
| Producers | | Gary Janetti, Tracy Poust & Jon Kinnally |
| Director | | James Burrows |
Plot Synopsis
The day before Will's charity auction and carnival, Jack meets and begins dating Baby Glenn, who is still riding his fifteen minutes of fame from when he got trapped in a hole for three days in the eighties. The two "celebrities" agree to be auctioned off for charity -- Baby Glenn's fans spend over a thousand dollars, but Jack begins to question his own notoriety when no one bids on him. Meanwhile, Karen just can't force herself to break up with Malcolm, so to soften the blow she recruits Grace to be his date to the carnival. But Grace can't stand his weird quirks and clingy personality and finally makes Karen confront him.
Cast
Eric McCormack (Will Truman)
Debra Messing (Grace Adler)
Sean Hayes (Jack McFarland)
Megan Mullally (Karen Walker)
Shelley Morrison (Rosario Salazar)
Guest Cast
Alec Baldwin (Malcolm Widmark)
Jason Biggs (Baby Glenn)
Christopher Herzberger (Dan)
Emil Beheshti (Mike)
Notes
Malcolm and Karen finally break up when Malcolm leaves to go on a mission to New Hampshire for jury duty.
Goodies
Airdates & Ratings
11/03/2005 08:30 PM: 03.3/08% #53
Related Links