Sweet (and Sour) Charity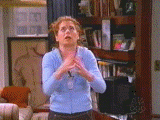 | | | |
| --- | --- | --- |
| Episode # | | 40 (2.18) |
| Season # | | 2 |
| Original Airdate | | 4/4/2000 |
| Writer | | Gail Lerner |
| Producers | | David Kohan & Max Mutchnick and James Burrows |
| Director | | James Burrows |
Plot Synopsis
After winning a call-in radio contest for prized concert tickets, Grace vows to reciprocate and volunteers her time to charity, but when she recruits Will to join her at a community center, she quickly begs off her commitment when it conflicts with her busy social calender. Meanwhile, Karen and Jack don't escape either from Grace's newfound charity which forces Karen to rifle through her closet -- and allows Jack to accidentally donate a pair of Karen's most-prized shoes.
Cast
Eric McCormack (Will Truman)
Debra Messing (Grace Adler)
Sean Hayes (Jack McFarland)
Megan Mullally (Karen Walker)
Guest Cast
Shelley Morrison (Rosario McFarland)
Debra Mooney (Sister Robert)
Mary Pat Gleason (Sally)
Megan Taylor Harvey (Carrot Girl)
Daryl Sabara (Broccoli Boy)
Athena Kihara (Radish Girl)
Ryan Tyler Collier (Boy)
Richard Wharton (Gerald)
Notes
Thank you to Naoto Kihara for information on this episode.
Sally also appeared in the episode "Acting Out".
Goodies
Airdates & Ratings
04/04/2000 09:00 PM: 09.2/14% #26
08/17/2000 08:30 PM: 07.0/11% #36 — Special
Related Links