Acting Out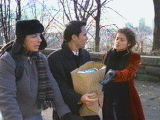 | | | |
| --- | --- | --- |
| Episode # | | 36 (2.14) |
| Season # | | 2 |
| Original Airdate | | 2/22/2000 |
| Writer | | David Kohan & Max Mutchnick |
| Producers | | David Kohan & Max Mutchnick and James Burrows |
| Director | | James Burrows |
Plot Synopsis
Will and Jack appear on "Today" to protest NBC for yanking a gay kiss from a sitcom episode. Meanwhile, Grace seeks Karen's advice on dumping a weirdo beau.
Cast
Eric McCormack (Will Truman)
Debra Messing (Grace Adler)
Sean Hayes (Jack McFarland)
Megan Mullally (Karen Walker)
Guest Cast
Al Roker (Himself)
Corey Parker (Josh)
Jeff Blumenkrantz (Craig Vissay)
Mary Pat Gleason (Sally)
Amy Crofoot (Receptionist)
Jo Marie Payton (Mrs. Freeman)
Notes
www.justjack.com is an actual web site created by the producers. (The link now points to NBC.com's Will & Grace page, but it used to be special site created by "Jack".)
This is the first episode that features outdoor scenes filmed on the streets of New York City.
Goodies
Airdates & Ratings
02/22/2000 09:00 PM: 10.5/15% #39
05/02/2000 08:30 PM: 04.3/06% #80 — Special 8:30 Episode
07/20/2000 09:00 PM: 07.7/13% #23 — New Time!
01/17/2002 08:30 PM: 12.8/19% #08 — Replacing "Inside Schwartz"
Related Links