Star Trek: The Next Generation
---
"Booby Trap"
| | |
| --- | --- |
| Episode Number | 54 (3.06) |
| Production Number | 154 |
| Season | 3 |
| Stardate | 43205.6 |
| Original Airdate | 30-Oct-1989 |
| Story | Michael Manger & Ron Roma |
| Teleplay | Ron Roman, Michael Piller and Richard Danus |
| Director | Gabrielle Beaumont |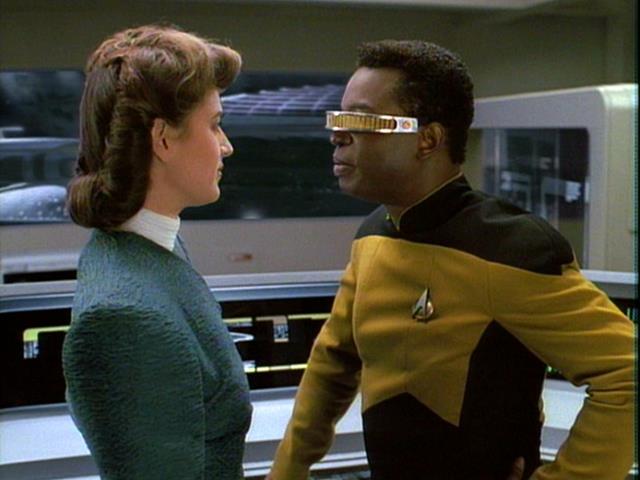 Synopsis
The Enterprise becomes trapped by energy draining, radiation emitting devices in an asteroid field. Geordi creates a holodeck image of Dr. Leah Brahms, a senior design engineer of the Galaxy-class Enterprise-D, to find a solution.
Guest Cast
Susan Gibney (Dr. Leah Brahms)
Julie Warner (Ensign Christy Henshaw)
Whoopi Goldberg (Guinan)
Colm Meaney (Lt. Miles O'Brien)
Albert Hall (Galek Dar)
Notes
Guinan states that she is attracted to bald men. A kind, bald man once took care of her. (see "Time's Arrow, Part I")

The real Dr. Brahms comes aboard the Enterprise in the episode "Galaxy's Child".

Geordi gets a second shot with Christy Henshaw in "Transfigurations".

The script originally had Picard becoming "involved" with Dr. Brahms, however it was changed to Geordi because it made more sense.

This was the first Next Generation episode directed by a woman.

Julie Warner went on to play Michelle in the movie Tommy Boy.
---