Star Trek: The Next Generation
---
"The Enemy"
| | |
| --- | --- |
| Episode Number | 55 (3.07) |
| Production Number | 155 |
| Season | 3 |
| Stardate | 43349.2 |
| Original Airdate | 06-Nov-1989 |
| Teleplay | David Kemper and Michael Piller |
| Director | David Carson |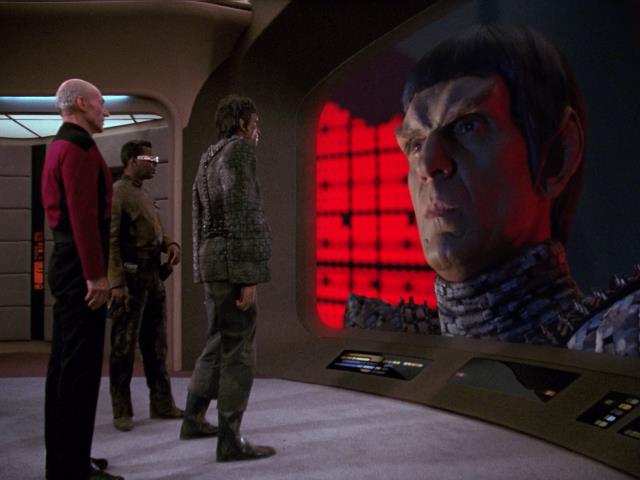 Synopsis
Stranded on Galorndon Core, Geordi is captured by a Romulan. The electro-magnetic storms numb the injured Romulan's legs and render Geordi's VISOR useless. The Enterprise sends a beacon and they are forced to collaborate to find it in order escape.
Guest Cast
John Snyder (Centurian Bochra)
Andreas Katsulas (Commander Tomalok)
Colm Meaney (Chief Miles O'Brien)
Steve Rankin (Patahk)
Notes
This is the first appearance of Romulan Commander Tomalok, who will appear 3 more times.

Galorndon Core is located approximately 0.5 light years from the Neutral Zone. The Romulans' interest in Galorndon Core is brought up again in "Unification, Part 2".

Worf allows the Romulan to die by refusing to donate blood plasma.

Dr. Crusher's hair has grown by at least 6 inches since the previous episode.
---