Star Trek: The Next Generation
---
"Transfigurations"
| | |
| --- | --- |
| Episode Number | 73 (3.25) |
| Production Number | 173 |
| Season | 3 |
| Stardate | 43957.2 |
| Original Airdate | 04-Jun-1990 |
| Teleplay | René Echevarria |
| Director | Tom Benko |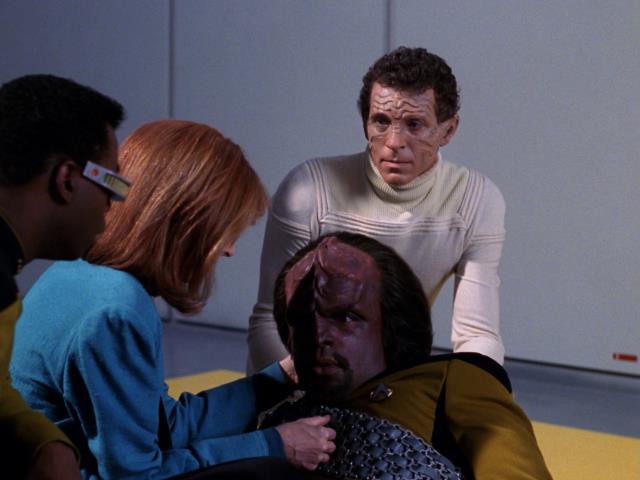 Synopsis
The Enterprise rescues an injured alien who has amnesia and the crew discovers that he has remarkable healing powers. A Zalkonian ship intercepts the Enterprise, claiming that the man is a wanted criminal.
Guest Cast
Mark LaMura ("John Doe")
Charles Dennis (Commander Sunad)
Julie Warner (Ensign Christy Henshaw)
Colm Meaney (Lt. Miles O'Brien)
Patti Tippo (Nurse Temple)
Notes
Geordi had a disastrous first date with Christy Henshaw in the episode "Booby Trap".

This is the first episode Dr. Crusher is seen using the new medical tricorder.

"John Doe" is transforming into an energy being. The Zalkonians have been killing anyone who exhibits the symptoms in an effort to stop evolution. "John Doe" is the first one to escape and make the transformation.
---