A Little Christmas Queer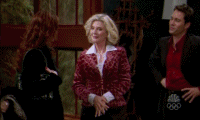 | | | |
| --- | --- | --- |
| Episode # | | 171 (8.09) |
| Season # | | 8 |
| Original Airdate | | 12/8/2005 |
| Writer | | Jamie Rhonheimer |
| Producers | | Gary Janetti, Tracy Poust & Jon Kinnally |
| Director | | James Burrows |
Plot Synopsis
While spending the holidays at Will's mother Marilyn's house, Grace gets cozy with Will's brother and old flame Sam. Sam's adopted daughter finds a fan in Karen, who is intrigued by the little girl. Meanwhile, Jack helps Will's clearly gay ten-year-old nephew organize and perform a Christmas show, which Marilyn is thrilled about. Will is silently fuming, however, as Marilyn is much more tolerant of the young boy than she ever was of her own son.
Cast
Eric McCormack (Will Truman)
Debra Messing (Grace Adler)
Sean Hayes (Jack McFarland)
Megan Mullally (Karen Walker)
Guest Cast
Blythe Danner (Marilyn Truman)
Steven Weber (Sam Truman)
Reed Alexander (Jordan Truman)
Kyla Dang (Casey Truman)
Notes
Will's oldest brother, Sam Truman, was last seen in the episodes "Big Brother is Coming (Part 1)" and "Big Brother is Coming (Part 2)". John Slattery played Sam in the previous episodes, but was unavailable for this appearance.
After announcing that he was divorcing his wife Ginny 7 years ago, Sam's divorce has just become final.
Kyla Dang was credited as "Courtney," but was called Casey in the actual episode.
Goodies
Airdates & Ratings
12/08/2005 08:30 PM: 05.9/09% #39
Related Links