Back Up, Dancer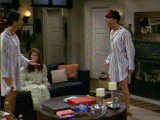 | | | |
| --- | --- | --- |
| Episode # | | 141 (7.02) |
| Season # | | 7 |
| Original Airdate | | 9/23/2004 |
| Writer | | Tracy Poust & Jon Kinnally |
| Producers | | Alex Herschlag & Dave Flebotte and James Burrows |
| Director | | James Burrows |
Plot Synopsis
Jack auditions as a backup dancer for Janet Jackson. Meanwhile, Grace comes between Will and Vince.
Cast
Eric McCormack (Will Truman)
Debra Messing (Grace Adler)
Sean Hayes (Jack McFarland)
Megan Mullally (Karen Walker)
Guest Cast
Janet Jackson (Herself)
Bobby Cannavale (Vince D'Angelo)
Will Arnett (Artemus Johnson)
Steve Ryan (Lieutenant)
Andrew Ableson (Choreographer)
Notes
Artemus and Karen met in Seattle in 1992 and were lovers for a day.
The Dance-Off 2004 song was "The Pleasure Principle" from Janet's Control album.
Goodies
Airdates & Ratings
09/23/2004 08:30 PM: 09.7/16% #14
01/06/2005 09:30 PM:
03/15/2005 08:00 PM: 04.5/07%
06/02/2005 08:30 PM: 04.3/08%
Related Links