Fagmalion Part Three: Bye Bye Beardy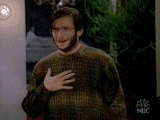 | | | |
| --- | --- | --- |
| Episode # | | 109 (5.17) |
| Season # | | 5 |
| Original Airdate | | 2/20/2003 |
| Writer | | Alex Herschlag |
| Producers | | Jeff Greenstein & Jhoni Marchinko and James Burrows |
| Director | | James Burrows |
Plot Synopsis
Will and Jack's transformation of Karen's schlubby cousin Barry is complete -- but his coming-out at the HRC gala leaves Will with mixed emotions about his new "creation," prompting some unwanted advice from Grace. In another corner, Karen duels with her flamboyant rival Beverley Leslie in a war of wills during the silent auction.
Cast
Eric McCormack (Will Truman)
Debra Messing (Grace Adler)
Sean Hayes (Jack McFarland)
Megan Mullally (Karen Walker)
Guest Cast
Dan Futterman (Barry)
Leslie Jordan (Beverley Leslie)
Kathleen Wilhoite (Sally)
Rebecca Lowman (Pamela)
Barry Karas (Himself)
Luciano Giancarlo (Byron)
Conroe Brooks (Kevin)
Brian A. Setzer (Benji)
Notes
Part 3 of 4.
Barry Karas is on the board of directors of the HRC. For more information on the Human Rights Campaign, see www.hrc.org.
Extra Brian A. Setzer plays the uncredited part of Benji, Beverley Leslie's "business associate."
Goodies
Airdates & Ratings
02/20/2003 09:00 PM: 10.6/15% #18
06/12/2003 09:00 PM: 06.4/11% #19
Related Links