Fear and Clothing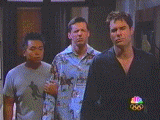 | | | |
| --- | --- | --- |
| Episode # | | 47 (3.02) |
| Season # | | 3 |
| Original Airdate | | 10/19/2000 |
| Writer | | Adam Barr |
| Producers | | David Kohan & Max Mutchnick and James Burrows |
| Director | | James Burrows |
Plot Synopsis
Will and Jack's apartment becomes a haven for Grace after a break-in attempt at her place; Meanwhile, Jack and Karen still aren't speaking over the divorce debacle.
Cast
Eric McCormack (Will Truman)
Debra Messing (Grace Adler)
Sean Hayes (Jack McFarland)
Megan Mullally (Karen Walker)
Shelley Morrison (Rosario Salazar)
Guest Cast
Notes
Two new episodes aired on 10/19.
Klaus Von Puppy and Guapo both appeared in this episode.
Grace moves back in with Will, and Jack sublets Grace's apartment across the hall (well, Will and Jack's mom sublet Grace's apartment).
Goodies
Airdates & Ratings
10/19/2000 08:30 PM: 15.7/24% #05 — Special 2-for-1
01/18/2001 09:00 PM: 11.7/17% #16 — Edited for time/more commecials
08/23/2001 09:00 PM: 08.5/14% #07 — (Unedited)
Related Links