Star Trek: The Next Generation
---
"Hollow Pursuits"
| | |
| --- | --- |
| Episode Number | 69 (3.21) |
| Production Number | 169 |
| Season | 3 |
| Stardate | 43807.4 |
| Original Airdate | 30-Apr-1990 |
| Teleplay | Sally Caves (Sarah Higley) |
| Director | Cliff Bole |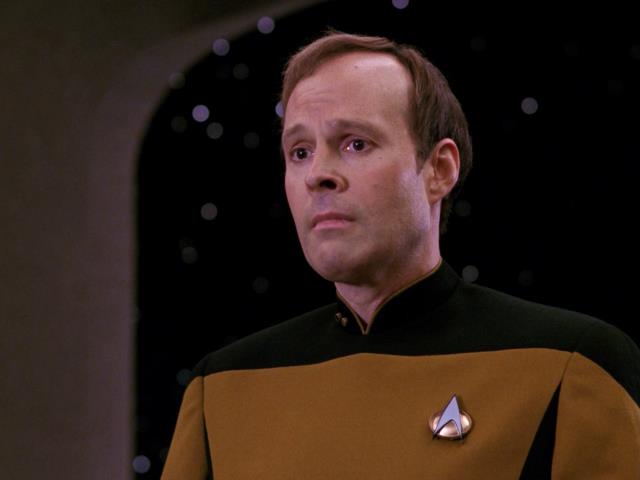 Synopsis
Geordi tries to help a shy diagnostic engineer, Lt. Reg Barclay, who escapes reality in the holodeck. Meanwhile, while transporting medical samples, mysterious malfunctions begin to plague the Enterprise.
Guest Cast
Whoopi Goldberg (Guinan)
Dwight Schultz (Lt. Reginald Barclay)
Colm Meaney (Lt. Miles O'Brien)
Charley Lang (Lt. Duffy)
Notes
This is the first appearance of Lt. Barclay, who will appear several more times throughout the series. His next appearance is in Season 4's "The Nth Degree".

Wesley Crusher's nick-name for Barclay is "Broccoli". He apparently thinks it's funny. Data points out that nick-names usually indicate fondness, diminutives between friends.

Barclay previously served on the U.S.S. Zhukov under Captain Gleason, where he received high ratings.

Sally Caves is writer Sarah Higley's pseudonym.
---