Star Trek: The Next Generation
---
"The Most Toys"
| | |
| --- | --- |
| Episode Number | 70 (3.22) |
| Production Number | 170 |
| Season | 3 |
| Stardate | 43872.2 |
| Original Airdate | 07-May-1990 |
| Teleplay | Shari Goodhartz |
| Director | Timothy Bond |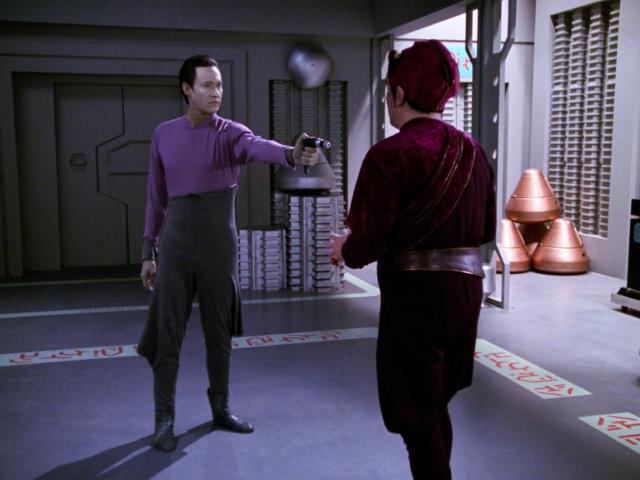 Synopsis
Data is kidnapped by Kivas Fajo, a Zibalian trader who collects unique things. After Data's shuttle apparently explodes, the crew assumes Data to be dead, and they proceed to an emergency mission on Beta Agni II.
Guest Cast
Saul Rubinek (Kivas Fajo)
Jane Daly (Varria)
Nehemiah Persoff (Palor Toff)
Colm Meaney (Lt. Miles O'Brien)
Notes
When Data is assumed dead, Worf is moved to Data's position as Operations Manager ("Ops").

At this point in time, Data has never killed anyone. While holding Fajo at bay with a Varon-T disrupter, Data is beamed to the Enterprise at the last minute. O'Brien detects his weapon was discharged during transport; Data notes that it must have been a malfunction.

Fajo owns four of the five Varon-T disrupters in existence, which are outlawed by the Federation.

Famous little person David Rappaport was originally cast as Fajo. Unfortunately, he committed suicide two days into filming.
---