Star Trek: The Next Generation
---
"The Nth Degree"
| | |
| --- | --- |
| Episode Number | 93 (4.19) |
| Production Number | 193 |
| Season | 4 |
| Stardate | 44704.2 |
| Original Airdate | 22-Apr-1991 |
| Teleplay | Joe Menosky |
| Director | Robert Legato |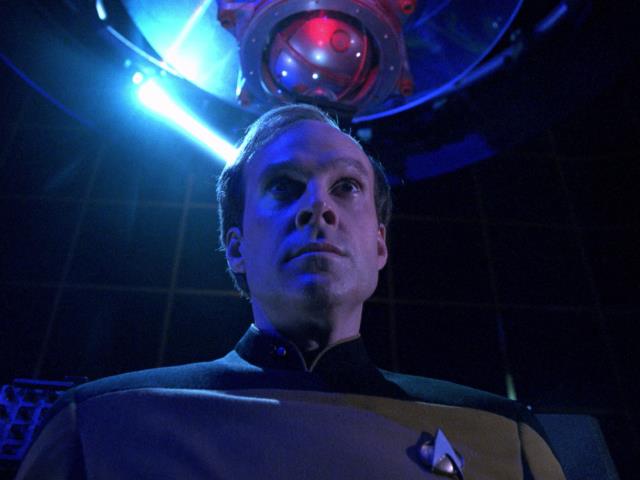 Synopsis
Sent to repair the malfunctioning Argus Array telescope, the Enterprise discovers an alien probe. An energy surge from the probe turns Lt. Barclay into a superbeing and enables him to form a neural link with the ship's computer. He takes the ship to an uncharted realm of space.
Guest Cast
Dwight Schultz (Lt. Reginald Barclay)
Jim Norton (Albert Einstein)
Kay E. Kuter (Cytherian)
Saxon Trainor (Lt. Linda Larson)
Page Leong (Ensign April Anaya)
David Coburn (Ensign Brower)
Notes
Dr. Crusher helps Barclay overcome his shyness by casting him in a play as Cyrano de Bergerac.

The Argus Array is located three light years from Cardassian space.

Barclay was introduced in Season 3's "Hollow Pursuits".

Kay Kuter played Herr Huber in the Sierra Online computer game "Gabriel Knight: The Beast Within"
---