Star Trek: Picard
---
"Nepenthe"
| | |
| --- | --- |
| Episode Number | 7 (1.07) |
| Production Number | 106 |
| Season | 1 |
| Stardate | |
| Original Airdate | 05-Mar-2020 |
| Teleplay | Samantha Humphrey and Michael Chabon |
| Director | Doug Aarniokoski |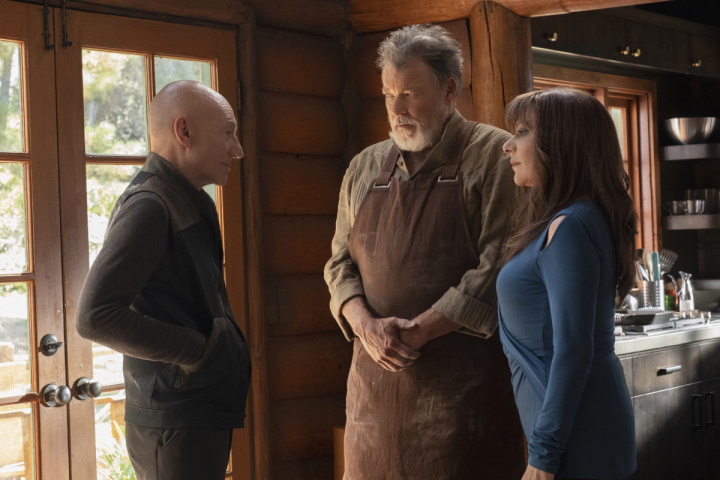 Synopsis
Picard and Soji transport to the planet Nepenthe, home to some old and trusted friends. As the rest of La Sirena's crew attempts to join them, Picard helps Soji make sense of her recently unlocked memories. Meanwhile, Hugh and Elnor are left on the Borg cube and must face an angered Narissa.
Starring
Patrick Stewart (Jean-Luc Picard)
Alison Pill (Dr. Agnes Jurati)
Isa Briones (Dr. Soji Asha)
Evan Evagora (Elnor)
Michelle Hurd (Raffi Musiker)
Santiago Cabrera (Cristóbal Rios)
Harry Treadaway (Narek)
Special Guest Star
Jonathan Frakes (William Riker)
Guest Cast
Marina Sirtis (Deanna Troi)
Jonathan Del Arco (Hugh)
Peyton List (Lt. Narissa Rizzo)
Tamlyn Tomita (Commodore Oh)
Lulu Wilson (Kestra Troi-Riker)
Derek Webster (Romulan Centurion)
Co-Starring
Kay Bess (La Sirena computer)
Notes
Jonathan Frakes (Will Riker) is credited as "special guest star" in the opening credits.

Harry Treadaway (Narek) appears in the episode, but his name was mistakenly left out of the opening credits, replaced by Jonathan Frakes.

The episode opens with an extended flashback scene of Dr. Jurati and Commodore Oh's meeting at the Daystrom Institute from "The End is the Beginning". Commodore Oh mind melds with Jurati, showing her the destruction of worlds. She tells Jurati to accompany Picard, and gives her a pill that will allow her to be tracked.

Two years after Star Trek: Nemesis, after transferring to the U.S.S. Titan, Will and Deanna had a son, Thaddeus. When Thad was later diagnosed with mendaxic neurosclerosis, they retired and moved to Nepenthe, which is supposed to have regenerative powers in its soil. He died when he was around fifteen years old; it would have been his eighteenth birthday the week before this episode.

Mendaxic neurosclerosis is a very rare silicon-based virus and can be completely cured with an active positronic matrix. Because of the death of Data and the ban on synthetics, Thaddeus could not be cured.

Thaddeus Troi-Riker is named after Thaddeus Riker, an ancestor of Riker's mentioned in the Voyager episode "Death Wish". Kestra Troi-Riker is named after Deanna's older sister, whose death was revealed in the episode "Dark Page".

After an extended fight sequence with Elnor, Narissa kills Hugh. Before he dies, Hugh tells Elnor an xB is needed to reactivate the Borg cube. Narek activates a Fenris Ranger SOS device he finds in Hugh's office.

This is the first appearance of Will Riker and Deanna Troi since Star Trek: Nemesis.

Jonathan Frakes has now appeared in five Star Trek series: The Next Generation, Picard, the Enterprise series finale "These Are The Voyages…" and in Voyager's "Death Wish" as Will Riker, and as Tom Riker in DS9's "Defiant".

Marina Sirtis never appeared on Deep Space Nine, but did appear in 3 episodes of Voyager as well as the Enterprise series finale as Deanna Troi, giving her appearances on 4 different Star Trek series.
---