Star Trek: Picard
---
"The Impossible Box"
| | |
| --- | --- |
| Episode Number | 6 (1.06) |
| Production Number | 105 |
| Season | 1 |
| Stardate | |
| Original Airdate | 27-Feb-2020 |
| Teleplay | Nick Zayas |
| Director | Maja Vrvilo |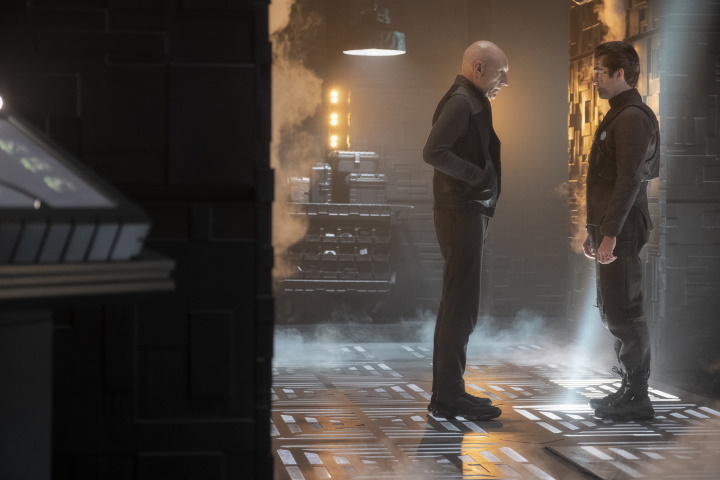 Synopsis
Picard and the crew track Soji to the Borg cube in Romulan space, resurfacing haunting memories for Picard. Meanwhile, Narek believes he finally found a way to safely exploit Soji for information.
Starring
Patrick Stewart (Jean-Luc Picard)
Alison Pill (Dr. Agnes Jurati)
Isa Briones (Dr. Soji Asha)
Evan Evagora (Elnor)
Michelle Hurd (Raffi Musiker)
Santiago Cabrera (Cristóbal Rios)
Harry Treadaway (Narek)
Guest Cast
Jonathan Del Arco (Hugh)
Peyton List (Lt. Narissa Rizzo)
Barbara Eve Harris (Captain Emily Bosch)
Sumalee Montano (Soji's Mother)
Co-Starring
Marti Matulis (xB Worker)
Ella McKenzie (Young Soji)
Rico McClinton (Older xB)
Charlie Newhart (Romulan Guard)
Notes
In a literal sense, the title refers to Narek's tan zhekran, a Rubik's Cube like puzzle box.

It's confirmed that Soji's mother is an AI. Each time Soji calls her, the calls last exactly 70 seconds and Soji falls asleep.

All of Soji's personal items and childhood photograph have a probable age of 37 months (3 years).

Soji has a recurring dream where as a child, she visits her father's restricted lab. She always wakes when he yells at her — before seeing what he's working on.

Narek uses a Romulan meditation technique called Zhal Makh to help Soji describe the details of her dream. She finally sees the ending, which is herself in pieces on an exam table. After Narek gets the description of Soji's planet, he locks Soji in the room and releases a cloud of radioactive gas from his tan zhekran. This is similar to the opening of Star Trek: Nemesis, where Senator Tal'aura leaves a device in the Romulan Senate which opens and releases a cloud of radiation into the room.

The Artifact is equipped with a spatial trajector that can transport 40,000 light years. The Borg acquired it by assimilating the Sikarian species. U.S.S. Voyager visited the Sikarians in the 1st season episode "Prime Factors", where Tuvok, Torres, and Seska took the technology and tried to integrate it into Voyager.

Hugh helps Picard and Soji to use the Sikarian trajector to travel to Nepenthe.
---