Star Trek: Lower Decks
---
"Cupid's Errant Arrow"
| | |
| --- | --- |
| Episode Number | 5 (1.05) |
| Production Number | 1005 |
| Season | 1 |
| Stardate | 57601.3 |
| Original Airdate | 03-Sep-2020 |
| Teleplay | Ben Joseph |
| Director | Kim Arndt |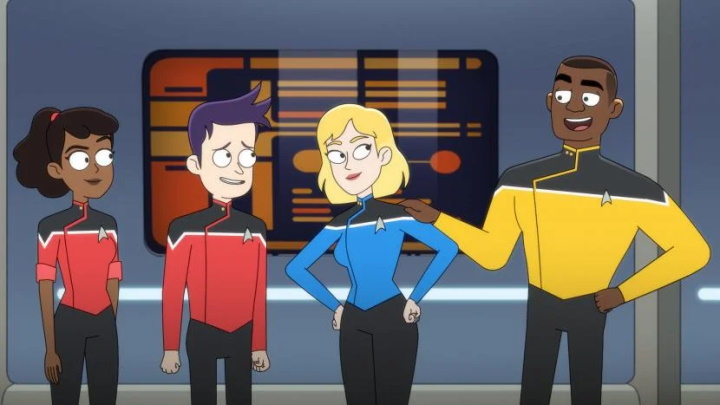 Synopsis
Mariner is suspicious of Boimler's new girlfriend. Tendi and Rutherford grow jealous of a bigger starship's gear.
Starring
Tawny Newsome (Ensign Beckett Mariner)
Jack Quaid (Ensign Brad Boimler)
Noël Wells (Ensign D'Vana Tendi)
Eugene Cordero (Ensign Sam Rutherford)
Dawnn Lewis (Captain Carol Freeman)
Jerry O'Connell (Commander Jack Ransom)
Fred Tatasciore (Lieutenant Shaxs)
Gillian Vigman (Dr. T'Ana)
Guest Cast
Gillian Jacobs (Lieutenant Barbara Brinson)
Matt Walsh (Lt. Commander Ron Docent)
Marcus Henderson (Ensign Jet Manhaver)
Kari Wahlgren (Ensign Angie)
Lauren Tom (Captain of the Vancouver)
Eric Bauza
Nolan North (Ensign Niko)
Notes
The Cerritos joins the U.S.S. Vancouver NCC-70492, a Parliament-class starship, in a mission to prevent the destruction of Mixtus III from an unstable moon.

This episode features a flashback of Mariner in a Star Trek: First Contact-era uniform having a drink at Quark's bar. The flashback introduces the U.S.S. Quito, an Olympic-class starship, docked at one of Deep Space 9's upper pylons.

This episode does not include a teaser, and immediately begins with the opening credits.

Gillian Vigman (Dr. T'Ana) appears briefly, but has no voiced lines in this episode.

Brad Boimler's full first name is revealed to be Bradward.

Though his last name isn't spoken in the episode, StarTrek.com gives it as Jet Manhaver. He appears with rank of Lieutenant in this episode and "Crisis Point", but is retconned to Ensign in the second season episode "Kayshon, His Eyes Open".
---