Star Trek: Lower Decks
---
"Moist Vessel"
| | |
| --- | --- |
| Episode Number | 4 (1.04) |
| Production Number | 1004 |
| Season | 1 |
| Stardate | 57538.9 |
| Original Airdate | 27-Aug-2020 |
| Teleplay | Ann Kim |
| Director | Barry J. Kelly |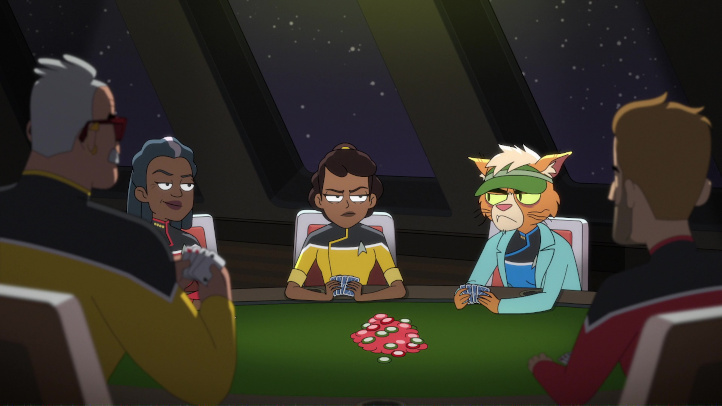 Synopsis
Captain Freeman seeks the ultimate payback after Mariner blatantly disrespects her in front of the crew. A well-meaning Tendi accidentally messes up Lieutenant O'Connor's attempt at spiritual ascension and tries to make it right.
Starring
Tawny Newsome (Ensign Beckett Mariner)
Jack Quaid (Ensign Brad Boimler)
Noël Wells (Ensign D'Vana Tendi)
Eugene Cordero (Ensign Sam Rutherford)
Dawnn Lewis (Captain Carol Freeman)
Jerry O'Connell (Commander Jack Ransom)
Fred Tatasciore (Lieutenant Shaxs)
Gillian Vigman (Dr. T'Ana)
Guest Cast
Haley Joel Osment (Lieutenant O'Connor)
Eric Bauza
Al Rodrigo (Captain Durango)
Paul Scheer (Lt. Commander Andy Billups)
Vanessa Marshall (Merced Science Officer)
Jessica McKenna (Cerritos Computer)
Notes
The U.S.S. Cerritos is joined in the mission by the U.S.S. Merced NCC-87075, a California-class sister ship, commanded by Captain Durango, who is a Tellarite. (Cerritos and Merced are cities in California.)

Captain Freeman previously served with Captain Durango on the U.S.S. Illinois.

In an attempt to get her to behave, Mariner is promoted to full lieutenant (and switches to the operations uniform). By the end of the episode, she is demoted back to ensign.

Admiral Vassery was voiced by Fred Tatasciore (Lieutenant Shaxs).

Lt. Winger Bingston Jr. was voiced by Eugene Cordero (Sam Rutherford).
---