Star Trek: Lower Decks
---
"Kayshon, His Eyes Open"
| | |
| --- | --- |
| Episode Number | 12 (2.02) |
| Production Number | 2002 |
| Season | 2 |
| Stardate | 58001.2 |
| Original Airdate | 19-Aug-2021 |
| Teleplay | Chris Kula |
| Director | Kim Arndt |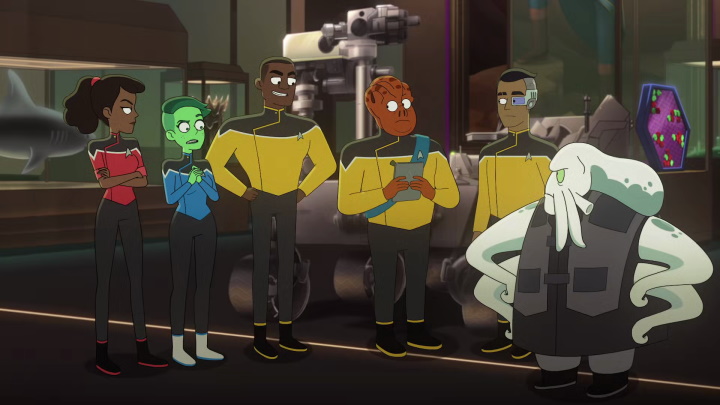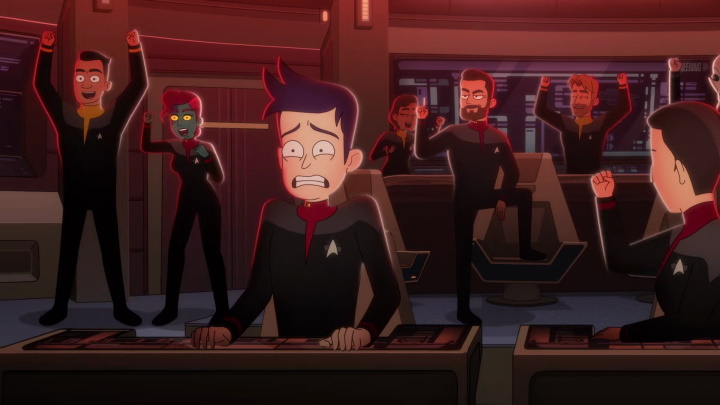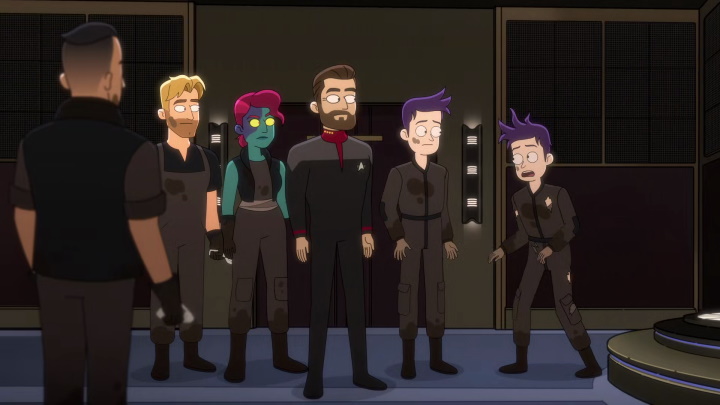 Synopsis
Our Lower Deckers have trouble bonding with Ensign Jet Manhaver, who has been assigned Boimler's bunk and shift duties. Meanwhile, we get a glimpse of Boimler's life on the U.S.S. Titan, which is more intense than he thought it would be.
Starring
Tawny Newsome (Ensign Beckett Mariner)
Jack Quaid (Lieutenant Brad Boimler)
Noël Wells (Ensign D'Vana Tendi)
Eugene Cordero (Ensign Sam Rutherford)
Dawnn Lewis (Captain Carol Freeman)
Jerry O'Connell (Commander Jack Ransom)
Fred Tatasciore
Gillian Vigman (Dr. T'Ana)
Special Guest Star
Jonathan Frakes (Captain William Riker)
Guest Cast
Rich Fulcher (Pakled Captain)
Robert Gilbert (Titan Chief Engineer)
Marcus Henderson (Ensign Jet Manhaver)
Vanessa Marshall (Titan First Officer)
Jessica McKenna (Ensign Barnes)
Nolan North (Karzill Miner)
Ben Rodgers (Lt. Commander Stevens)
Ryan Stanger (Titan Tactical Officer)
Carl Tart (Lt. Kayshon)
Paul F. Tompkins (Dr. Gabers Migleemo)
Notes
This episode introduces the new chief of security, Lt. Kayshon. He is the first Tamarian in Starfleet. Tamarians were first introduced in the Next Generation episode "Darmok".

A transporter accident creates a copy of Boimler, as it did to Riker in the Next Generation episode "Second Chances". While the newly named "William" Boimler remains on the U.S.S. Titan, the original Bradward Boimler is transferred back to the U.S.S. Cerritos.

Jet Manhaver appears with the rank of Ensign, despite being seen in two earlier episodes wearing the pips of a lieutenant. He brushes the extra pip away, making a joke about it being a kernel of corn.
---