Star Trek: Lower Decks
---
"Terminal Provocations"
| | |
| --- | --- |
| Episode Number | 6 (1.06) |
| Production Number | 1006 |
| Season | 1 |
| Stardate | 57663.9 |
| Original Airdate | 10-Sep-2020 |
| Teleplay | John Cochran |
| Director | Bob Suarez |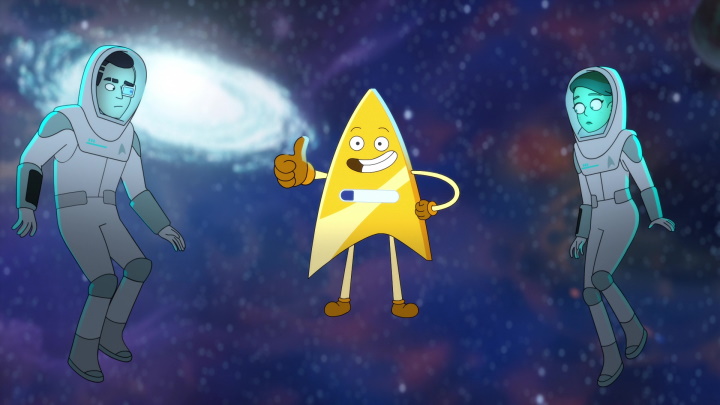 Synopsis
The lovable, but awkward, Ensign Fletcher makes work difficult for Mariner and Boimler. Rutherford introduces Tendi to a holodeck training program he created.
Starring
Tawny Newsome (Ensign Beckett Mariner)
Jack Quaid (Ensign Brad Boimler)
Noël Wells (Ensign D'Vana Tendi)
Eugene Cordero (Ensign Sam Rutherford)
Dawnn Lewis (Captain Carol Freeman)
Jerry O'Connell (Commander Jack Ransom)
Fred Tatasciore (Lieutenant Shaxs)
Gillian Vigman (Dr. T'Ana)
Guest Cast
Tim Robinson (Ensign Fletcher)
Jack McBrayer (Badgey)
Asif Ali (Delta Shift Ensign Asif)
Artemis Pebdani (Delta Shift Ensign Karavitas)
J.G. Hertzler (Drookmani Captain)
Jessica McKenna (Ensign Barnes/Cerritos Computer)
Paul Scheer (Lt. Commander Andy Billups)
Notes
The Cerritos is engaged in a stand-off with Drookmani scavengers who want to salvage the wreckage of an unnamed Antares-class freighter with registry NCC-502.

Fletcher is promoted and transferred to the U.S.S. Titan, which would be commanded by Captain Will Riker at this time. (He is fired a week later.)

J.G. Hertzler voices the Drookmani Captain. He is best known in the Trek universe for the role of Martok on Deep Space Nine.
---