Star Trek: Lower Decks
---
"Crisis Point"
| | |
| --- | --- |
| Episode Number | 9 (1.09) |
| Production Number | 1009 |
| Season | 1 |
| Stardate | |
| Original Airdate | 01-Oct-2020 |
| Teleplay | Ben Rodgers |
| Director | Bob Suarez |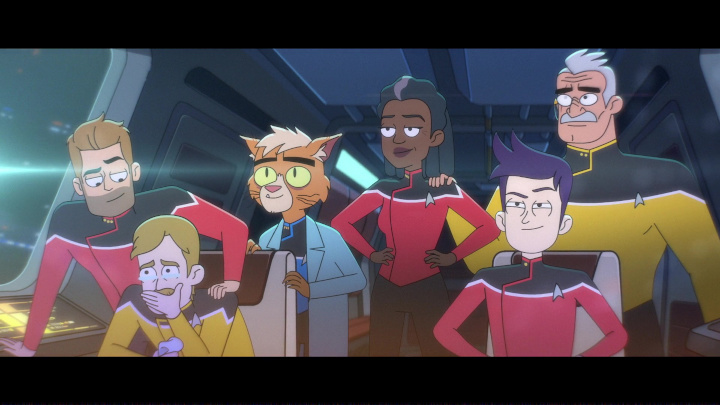 Synopsis
Mariner repurposes Boimler's holodeck program to cast herself as the villain in a Lower Decks style movie.
Starring
Tawny Newsome (Ensign Beckett Mariner)
Jack Quaid (Ensign Brad Boimler)
Noël Wells (Ensign D'Vana Tendi)
Eugene Cordero (Ensign Sam Rutherford)
Dawnn Lewis (Captain Carol Freeman)
Jerry O'Connell (Commander Jack Ransom)
Fred Tatasciore (Lieutenant Shaxs)
Gillian Vigman (Dr. T'Ana)
Guest Cast
Paul Scheer (Lt. Commander Andy Billups)
Paul F. Tompkins (Dr. Gabers Migleemo)
Ben Rodgers (Shempo)
Gabrielle Ruiz (Lieutenant Lemonts)
Gary Cole (Leonardo da Vinci)
Nolan North
Marcus Henderson (Ensign Jet Manhaver)
Notes
Mariner rewrites the Boimler 5 holoprogram, renaming it to Crisis Point: The Rise Of Vindicta. The holoprogram takes on elements from most of the Trek movies.

During the "movie" scenes on the holodeck, the video is letterboxed into a 2.39 aspect ratio, mimicking a film presentation.

Dr. Migleemo is introduced as the ship's counselor.

Boimler discovers Mariner is Captain Freeman's daughter. The stress of the discovery causes him to botch the diplomacy workshop interview he had been preparing for.
---