Star Trek: Enterprise
---
"Affliction"
| | |
| --- | --- |
| Episode Number | 91 (4.15) |
| Production Number | 91 |
| Season | 4 |
| Stardate | 27-Nov-2154 |
| Original Airdate | 18-Feb-2005 |
| Story | Manny Coto |
| Teleplay | Michael Sussman |
| Director | Michael Grossman |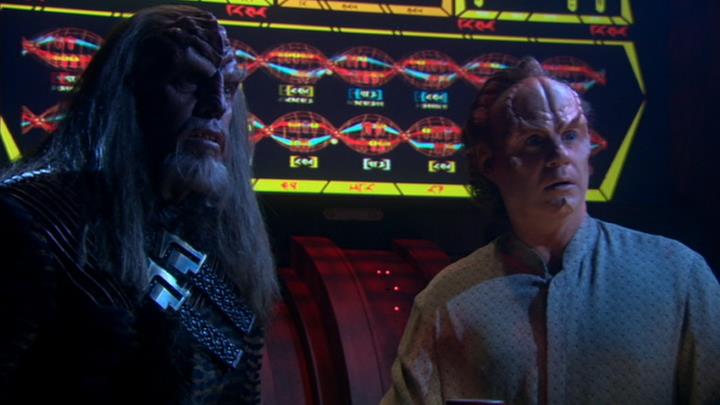 Synopsis
While Enterprise visits Earth for the launch of Columbia NX-02, Dr. Phlox is kidnapped by a band of Klingons who are desperate to find a cure for a genetically-engineered virus that threatens their entire race. Meanwhile, Trip begins his new assignment aboard the Starship Columbia as it prepares to embark on its maiden voyage and Reed's ties to a mysterious intelligence organization compromises his allegiance to Archer and Enterprise. Later, T'Pol attempts her first mind-meld in the search for clues to Phlox's whereabouts.
Guest Cast
John Schuck (Dr. Antaak)
James Avery (General K'Vagh)
Ada Maris (Captain Erika Hernandez)
Eric Pierpoint (Harris)
Terrell Tilford (Marab)
Kate McNeil (Cmdr. Collins)
Brad Greenquist (Alien #1)
Derek Magyar (Cmdr. Kelby)
Marc Worden (Klingon Prisoner)
Seth MacFarlane (Ensign Rivers)
Notes
Part 1 of 2.

The virus was created by the Klingons using DNA from the Human Augments in trying to create a Klingon Augment. One of the test subjects had the Livodian flu and the virus mutated. They tried to get Dr. Arik Soong, but were unable, so they took Phlox instead.

Archer walks T'Pol through her mind meld with Hoshi.

After Reed is caught in a lie and erases the Rigellian black box, Archer relieves him from duty and throws him in the brig pending court-martial.

Admiral Gardner has replaced Admiral Forrest as the commander of the fleet.

Kelby has replaced Tucker as the Enterprise Chief Engineer.

Hernandez has to remind Tucker to replace the Enterprise patch on his arm with a Columbia patch.

Hernandez served on the Republic under Captain Jennings before she received command of the Columbia.
---