Star Trek: Enterprise
---
"Divergence"
| | |
| --- | --- |
| Episode Number | 92 (4.16) |
| Production Number | 92 |
| Season | 4 |
| Stardate | |
| Original Airdate | 25-Feb-2005 |
| Teleplay | Judith Reeves-Stevens & Garfield Reeves-Stevens |
| Director | David Barrett |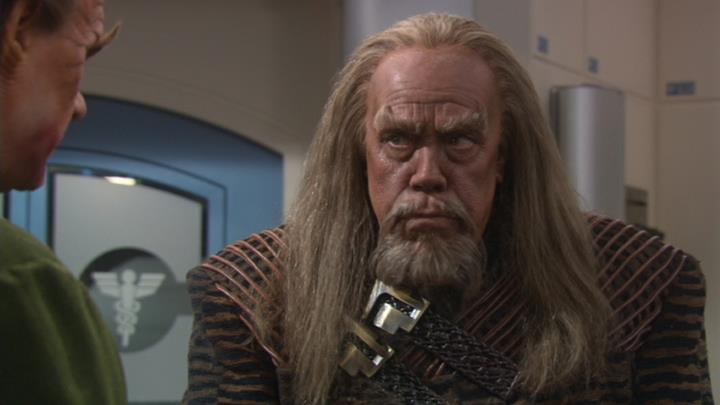 Synopsis
With the help of Captain Hernandez, Trip and the newly-launched starship Columbia, Archer pursues the kidnapped Phlox deep into Klingon territory, as Phlox decides to cooperate with finding a cure to a virus ravaging a Klingon outpost. Meanwhile, Archer demands that Reed disclose his secret orders when his ties to a mysterious intelligence organization are revealed. Later, when Trip temporarily returns to Enterprise, T'Pol tries to broach an uncomfortable subject with him.
Guest Cast
Kristin Bauer (Laneth)
James Avery (General K'Vagh)
John Schuck (Dr. Antaak)
Ada Maris (Captain Erika Hernandez)
Eric Pierpoint (Harris)
Terrell Tilford (Marab)
Wayne Grace (Admiral Krell)
Matt Jenkins (Tactical Officer)
Notes
Part 2 of 2.

Phlox finds a cure for the virus, but it leaves 7 million Klingons without ridges, a genetic trait they will pass onto their children. Phlox notes that the appearance can be corrected with cosmetic surgery.

The Columbia's registry is NX-02. It is a slightly different color than Enterprise (more silver-grey) and has minor improvements over Enterprise.
---