Whatever Happened to Baby Gin?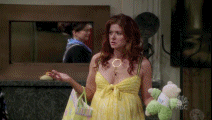 | | | |
| --- | --- | --- |
| Episode # | | 184 (8.22) |
| Season # | | 8 |
| Original Airdate | | 5/11/2006 |
| Writer | | Gary Janetti & Tracy Poust & Jon Kinnally |
| Producers | | Gary Janetti, Tracy Poust & Jon Kinnally |
| Director | | James Burrows |
Plot Synopsis
Just as Grace and Will are settling into the idea of raising the baby together, Will's boyfriend Vince surprises him with an announcement that will lead Will to choose between his commitment to Grace and his relationship with Vince. Meanwhile, Karen shocks everyone when she announces that she has a sister, Gin, who was injured as a child during a game of Twister. Josh Lucas, on the other hand, comforts Jack after a devastating discovery when his new show "The Badge" premieres.
Cast
Eric McCormack (Will Truman)
Debra Messing (Grace Adler)
Sean Hayes (Jack McFarland)
Megan Mullally (Karen Walker)
Shelley Morrison (Rosario Salazar)
Guest Cast
Bobby Cannavale (Vince D'Angelo)
Bernadette Peters (Gin)
Josh Lucas (Himself)
Charles C. Stevenson (Smitty)
Notes
40-minute Super-Size episode.
Karen has been supporting her sister Gin (Virginia) since "the accident" that left one leg 3/8" shorter than the other.
Jack is devastated to find out that his voice has been dubbed with a more "manly" sounding voice.
The two cater-waiters Dalton and Mario were uncredited.
Goodies
Airdates & Ratings
05/11/2006 08:00 PM: 06.2/10% #39 — Super-Size (40 minutes)
Related Links