Hocus Focus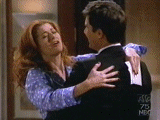 | | | |
| --- | --- | --- |
| Episode # | | 90 (4.23) |
| Season # | | 4 |
| Original Airdate | | 5/2/2002 |
| Writer | | Sally Bradford |
| Producers | | David Kohan & Max Mutchnick and James Burrows |
| Director | | James Burrows |
Plot Synopsis
After Will wins a portrait session at a charity auction, he takes Grace to pose for a notoriously eccentric celebrity photographer but the unfocused shooter's bizarre methods ultimately produce a funky image that flatters Grace -- and frightens Will. Meanwhile, Jack's back with another performance act, and this time he employs magic tricks but regrets using Karen as his less-than-helpful assistant.
Cast
Eric McCormack (Will Truman)
Debra Messing (Grace Adler)
Sean Hayes (Jack McFarland)
Megan Mullally (Karen Walker)
Guest Cast
Glenn Close (Fannie Lieber)
J.P. Manoux (Minion)
Jeremy Forte (Angry Man)
Jason Stuart (Stuart)
Notes
Thanks to Kendra for information on this episode.
Both Michael Douglas and Glenn Close were nominated for Emmy awards for Outstanding Guest Actors for their appearances on "Will & Grace".
Goodies
Transcript of this Episode.
0423-OldJackMagic.wmv: That Old Jack Magic
0423-FannieLieber.wmv: Fannie Lieber
WG-Assistant.wav: Jack: Then remember your place. You're the assistant. Let's not forget where that word comes from. Latin for ass of an ant
WG-BegForIt.wav: Grace: You might as well say yes now before I make my gay guy beg for it.
WG-CheapUnderwear.wav: Fannie: Eh, you're Jewish. Grace: How could you tell that? Fannie: Cheap underwear.
WG-GonnaBeMad.wav: Karen: I'm gonna be so mad when my mood elevators wear off.
WG-GuyWhoBegs.wav: Fannie: All right dammit, why am I such a sucker for a gay guy who begs!? Grace: Story of my life, sister.
WG-LifeLacking.wav: Will: Twenty five hundred gay men who care. It's everything my life is lacking.
WG-LoveFags.wav: Fannie: Good for you. I love fags, married three of them.
WG-NextTrick.wav: Jack: For my next trick, I'll need a volunteer, which would be a nice change of pace seeing as they usually charge me.
WG-PuffMagic.wav: Grace: Look at me. I look all huffy and mannish. I'm like... Puff the Magic Drag Queen.
Airdates & Ratings
05/02/2002 09:00 PM: 11.4/17% #09
09/12/2002 09:00 PM: 06.5/11% #18
Related Links