Lows in the Mid-Eighties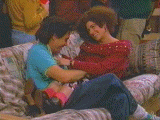 | | | |
| --- | --- | --- |
| Episode # | | 53 (3.08) |
| Season # | | 3 |
| Original Airdate | | 11/23/2000 |
| Writer | | Jeff Greenstein |
| Producers | | David Kohan & Max Mutchnick and James Burrows |
| Director | | James Burrows |
Plot Synopsis
A crucial confession highlights Thanksgiving 1985, when college student Grace takes boyfriend Will home to meet her family, who then comes out of the closet. Also, we learn how Will and Jack became pals and how Karen ended up with hubby Stan and Rosario.
Cast
Eric McCormack (Will Truman)
Debra Messing (Grace Adler)
Sean Hayes (Jack McFarland)
Megan Mullally (Karen Walker)
Shelley Morrison (Rosario Salazar)
Guest Cast
Debbie Reynolds (Bobbi Adler)
Tom Gallop (Rob)
Leigh-Allyn Baker (Ellen)
Ever Carradine (Pam)
Sara Rue (Joyce Adler)
Neil Vipond (Julius)
Raymond Forchion (Clayton)
Michael D. Trail (Sultan of Boran)
Scott Berman (Dontonio)
Martina Navratilova (Herself)
Notes
Special One-Hour Thanksgiving episode. This episode was taped on 11/6/2000 (present day scenes) and 11/8/2000 (flashback scenes).
This episode was a Zap2it Best Bet, a TVGuide Highlight, and a Gist TV Pick for 11/23/2000.
James Burrows won the Director's Guild of America (DGA) award for Outstanding Directorial Achievement in Comedy Series for this episode.
Goodies
Airdates & Ratings
11/23/2000 09:00 PM: 11.9/21% #15
04/05/2001 09:00 PM: 09.9/15%
Related Links