U.S.S. EXCELSIOR NCC-2000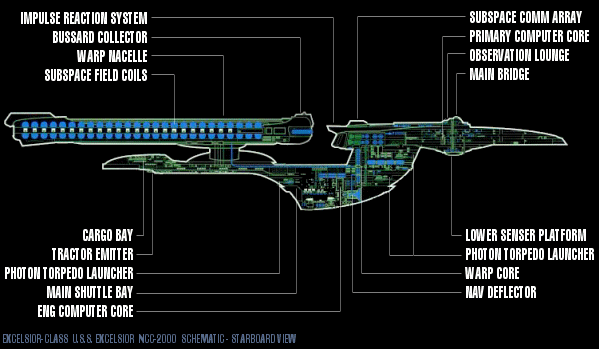 ---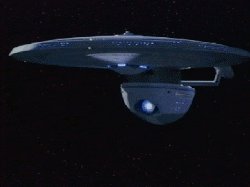 The Excelsior-class Starship Development Project began in 2273, with construction beginning in 2275. The U.S.S. Excelsior NX-2000 prototype was launched in 2284 under the command of Captain Styles. Newly promoted Captain Montgomery Scott oversaw the engineering team. The Excelsior included a prototype for the unsuccessful Transwarp Drive Development Project. The Transwarp Drive, developed by Dr. Jeffries, was Starfleet's attempt to create a new warp drive that was faster and more efficient than the current Zefram Cochrane-based design.

In 2287, during testing of transwarp drive, the Excelsior transwarp core breached and had to be ejected. The ship suffered a complete systems failure. After repairs, the Excelsior returned to Earth under impulse power. The Transwarp project was deemed a failure and the project was cancelled. The Excelsior was refit with a standard warp drive and was officially commissioned in 2290 as the U.S.S. Excelsior NCC-2000 under the command of Captain Hikaru Sulu.

Despite the failed Transwarp drive, the Excelsior became the prototype for many Starfleet vessels. More Excelsior-class starships have been commissioned than any other class. Excelsior starships include the U.S.S. Enterprise NCC-1701-B and the U.S.S. Hood NCC-42296.

The Excelsior-class has received several refits during its life of service. More recent Excelsior-class starships, such as the U.S.S. Lakota NCC-42768, have upgraded warp cores, using Galaxy-class starship cores and upgraded weapon systems, including quantum torpedoes.
SPECIFICATIONS
| | |
| --- | --- |
| NAME/REGISTRY | U.S.S. Excelsior NCC-2000 |
| CLASSIFICATION | Excelsior-Class Explorer |
| YEAR COMMISSIONED | 2290 |
| LENGTH | 467 M |
| WIDTH | 186 M |
| HEIGHT | 78 M |
| WEIGHT | 240,000 MT |
| DECKS | 15 |
| CREW COMPLIMENT | 570 |
| PRIMARY PROPULSION | Matter/Antimatter Reactor (warp core) |
| SECONDARY PROPULSION | Deuterium Fusion Drive motors (impulse engines) |
| WARP FACTOR | 9.2 (Cruise Velocity); 9.6 (12 hours); 9.8 (Max) |
| ARMAMENT | Type-VIII Phaser Arrays (5.1 MW); 3 Mark-VIII and Mark-IX Photon Torpedo Launchers |
| COMPUTER CORE | Primary computer core. Isolinear optical circuits |
| AUXILIARY CRAFT | Up to 10 shuttlecraft |
NOTABLE EXCELSIOR-CLASS STARSHIPS
| REGISTRY | DESIGNATION | CMD. OFFICER | NOTES |
| --- | --- | --- | --- |
| NCC-2000 | U.S.S. Excelsior | Capt. Hikaru Sulu | Transwarp Prototype NX-2000; Refit in 2290 with standard warp core (Star Trek III: The Search For Spock) |
| NCC-2544 | U.S.S. Repulse | Capt. Taggert | Dr. Katherine Pulaski was CMO of the Repulse before assignment to U.S.S. Enterprise NCC-1701-D |
| NCC-2573 | U.S.S. Roosevelt | | Destroyed by the Borg at Wolf 359 in 2367 ("The Best of Both Worlds, Part II") |
| NCC-14232 | U.S.S. Berlin | | Patrolled Neutral Zone in 2364 ("Angel One") |
| NCC-18253 | U.S.S. Potemkin | | Rescued Federation science team on Nervala IV in 2361 ("Second Chances") |
| NCC-38907 | U.S.S. Intrepid | Capt. Drew Deighan | 2nd named Intrepid; 1st to Respond to Khitomer Distress Signal in 2346 |
| NCC-40152 | U.S.S. Gorkon | Adm. Alynna Necheyev | Admiral Necheyev's flagship during Borg incident in 2369 ("Descent, Part I") |
| NCC-42136 | U.S.S. Cairo | Capt. Edward Jellico | Capt. Jellico's assignment; named for Egyptian city ("Chain of Command") |
| NCC-42296 | U.S.S. Hood | Capt. Robert DeSoto | Transferred Riker and others to Enterprise-D in 2364 ("Encounter at Farpoint") |
| NCC-42995 | U.S.S. Al-Batani | Capt. Owen Paris | Commanded by Owen Paris, Tom Paris' father; Janeway served as science officer. |
| NCC-62043 | U.S.S. Melbourne | | Destroyed by the Borg at Wolf 359 in 2367 ("The Best of Both Worlds, Part II") |
---