Star Trek: The Next Generation
---
"Parallels"
| | |
| --- | --- |
| Episode Number | 163 (7.11) |
| Production Number | 263 |
| Season | 7 |
| Stardate | 47410.2 |
| Original Airdate | 29-Nov-1993 |
| Teleplay | Brannon Braga |
| Director | Robert Wiemer |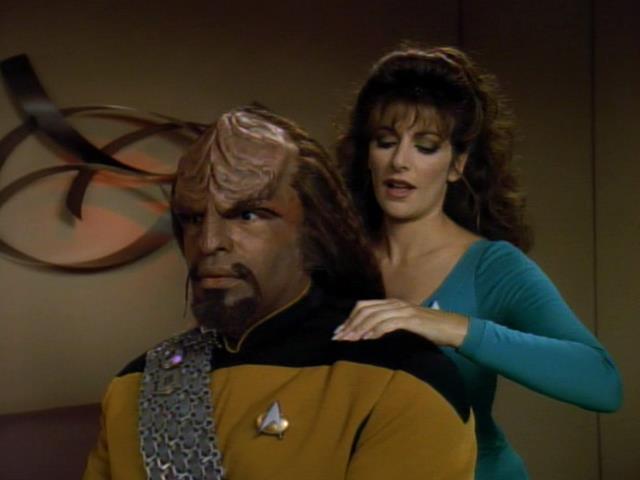 Synopsis
Worf finds he is the only one who notices reality changing — and his sanity ebbing — after he returns from a Klingon bat'leth competition.
Guest Cast
Wil Wheaton (Lt. Wesley Crusher)
Patti Yasutake (Nurse Alyssa Ogawa)
Mark Bramhall (Gul Nador)
Notes
Alexander is said to be visiting Worf's parents on Earth.

The Enterprise returns to the Argus Array, first seen in the episode "The Nth Degree". In one reality, the Cardassians reprogrammed it to spy on starship development sites: Deep Space 5, Starbase 47, Iadara Colony, and Utopia Planitia.

During the various realities Worf and Troi are married; Wesley Crusher appears as a Lieutenant on the Enterprise; Alyssa Ogawa appears as Doctor Ogawa; Geordi dies in a Bajoran attack while a Cardassian in Starfleet uniform operates the helm.

The shifts are triggered by Geordi's VISOR.

At the end of the episode, Worf invites Troi to stay for dinner and they celebrate his birthday with champagne. This marks the beginning of their short "relationship."
---