Star Trek: The Next Generation
---
"Clues"
| | |
| --- | --- |
| Episode Number | 88 (4.14) |
| Production Number | 188 |
| Season | 4 |
| Stardate | 44502.7 |
| Original Airdate | 11-Feb-1991 |
| Story | Bruce D. Arthurs |
| Teleplay | Bruce D. Arthurs and Joe Menosky |
| Director | Les Landau |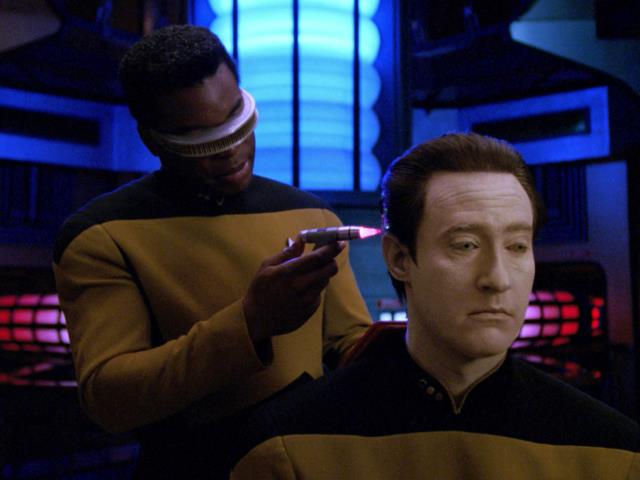 Synopsis
After experiencing a wormhole, Data appears to be lying to cover up the reason for the crew's resulting unconsciousness.
Guest Cast
Whoopi Goldberg (Guinan)
Colm Meaney (Lt. Miles O'Brien)
Pamela Winslow (Ensign McKnight)
Rhonda Aldrich (Madeline)
Patti Yasutake (Nurse [Alyssa Ogawa])
Thomas Knickerbocker (Gunman)
Notes
Guinan joins Picard on the holodeck in a Dixon Hill story.

The nurse introduced in "Future Imperfect" is given a first name in this episode, Alyssa. (Alyssa gets a last name in "Identity Crisis".)

This is the first episode where we see Worf teaching his Klingon T'ai Chi class.

The Paxans are an isolationist species. When ships enter their space, they stun the crew and make it appear to be the effect of a wormhole. However, their stun did not work on Data.
---