Star Trek: The Next Generation
---
"First Contact"
| | |
| --- | --- |
| Episode Number | 89 (4.15) |
| Production Number | 189 |
| Season | 4 |
| Stardate | |
| Original Airdate | 18-Feb-1991 |
| Story | Marc Scott Zicree |
| Teleplay | Dennis Russell Bailey & David Bischoff and Joe Menosky & Ronald D. Moore and Michael Piller |
| Director | Cliff Bole |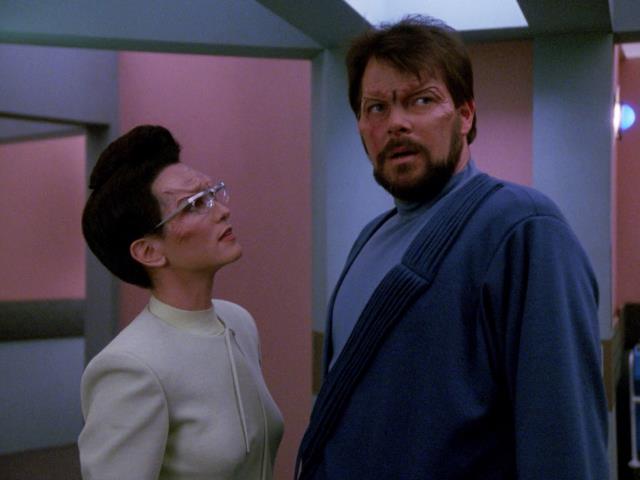 Synopsis
Riker is injured and hospitalized while disguised as one of the people of the planet Malcoria III, a society on the verge of space travel. To find Riker, Picard makes immediate contact with the Malcorian Science Minister, Mirasta Yale.
Guest Cast
Carolyn Seymour (Science Minister Mirasta Yale)
George Coe (Chancellor Avill Durken)
Michael Ensign (Security Minister Krola)
Steven Anderson (Dr. Nilrem)
Sachi Parker (Dr. Tava)
Bebe Neuwirth (Nurse Lanel)
George Hearn (Dr. Berel)
Notes
The Federation is very careful about First Contact procedures because of the "disastrous" first contact with the Klingons that lead to years of conflict.

When Chancellor Durken cancels the space program, Yale leaves Malcoria with the Enterprise.

Carolyn Seymour has also played Romulan Subcommander Taris in "Contagion" and later Romulan Commander Toreth in "Face of the Enemy".

Lanel offers to help Riker escape if he will make love to her. They don't show what happens, but minutes later he is seen escaping....

Bebe Neuwirth is famous for playing Dr. Lilith Crane on the NBC sitcom "Cheers".
---