Star Trek: The Next Generation
---
"Remember Me"
| | |
| --- | --- |
| Episode Number | 79 (4.05) |
| Production Number | 179 |
| Season | 4 |
| Stardate | 44161.2 |
| Original Airdate | 22-Oct-1990 |
| Teleplay | Lee Sheldon |
| Director | Cliff Bole |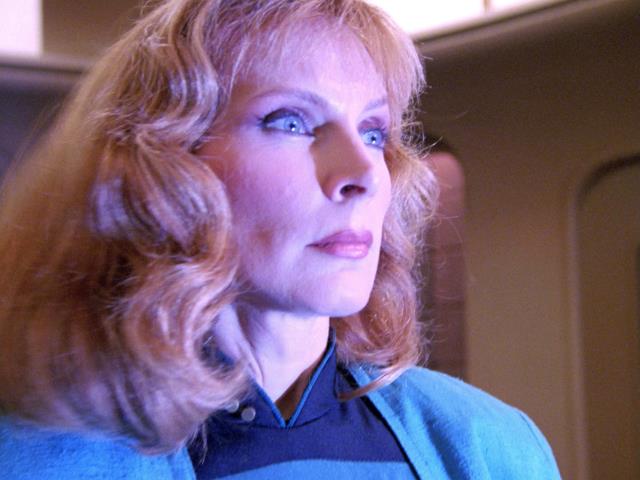 Synopsis
Dr. Crusher discovers crew members are vanishing one by one, but no one left on board misses them — or even knows who they are. She eventually discovers that she is trapped in a warp bubble generated by one of Wesley's experiments gone awry.
Guest Cast
Eric Menyuk (The Traveler)
Bill Erwin (Cmdr. Dalen Quaice, M.D.)
Colm Meaney (Lt. Miles O'Brien)
Notes
The Enterprise is docked at Starbase 133 for crew rotation. It is carrying 1014 people, including Dr. Quaice.

Dr. Crusher interned under Dr. Quaice on Delos IV. Dr. Quaice has been stationed at Starbase 133 for six years.

Dr. Crusher pages Dr. Selar and asks the computer to locate her; she goes missing soon after Dr. Quaice (see "The Schizoid Man").

This was the 79th episode of Star Trek: The Next Generation. The original Star Trek series' episode count was 79.

The Traveler was introduced in the episode "Where No One Has Gone Before". Wesley was experimenting with Kosinski's equations from the same episode.
---