Star Trek: The Next Generation
---
"Suddenly Human"
| | |
| --- | --- |
| Episode Number | 78 (4.04) |
| Production Number | 176 |
| Season | 4 |
| Stardate | 44143.7 |
| Original Airdate | 15-Oct-1990 |
| Story | Ralph Phillips |
| Teleplay | John Whelpley & Jeri Taylor |
| Director | Gabrielle Beaumont |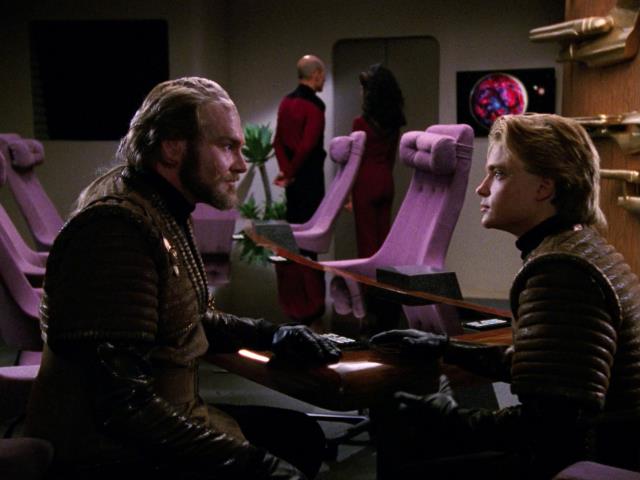 Synopsis
The Enterprise saves a Talarian ship and a teenage human boy named Jono who was been raised by the aliens as one of their own. DNA matching identifies him as Jeremiah Rossa, grandson of Starfleet Admiral Rossa. The boy wishes to remain with the Talarian captain Endar, who took Jono in as his own son.
Guest Cast
Chad Allen (Jono/Jeremiah Rossa)
Sherman Howard (Captain Endar)
Barbara Townsend (Admiral Connaught Rossa)
Notes
Jeremiah's parents, along with the rest of the colony, were killed by the Talarians during a border dispute. Endar took in Jeremiah, who was just a baby.

Jono decides to return to the Talarians.

The Enterprise rescued a group of renegade Klingons on a crippled Talarian ship in the first season episode "Heart of Glory".
---