Star Trek: The Next Generation
---
"Where No One Has Gone Before"
| | |
| --- | --- |
| Episode Number | 6 (1.06) |
| Production Number | 106 |
| Season | 1 |
| Stardate | 41263.1 |
| Original Airdate | 26-Oct-1987 |
| Teleplay | Diane Duane and Michael Reeves |
| Director | Rob Bowman |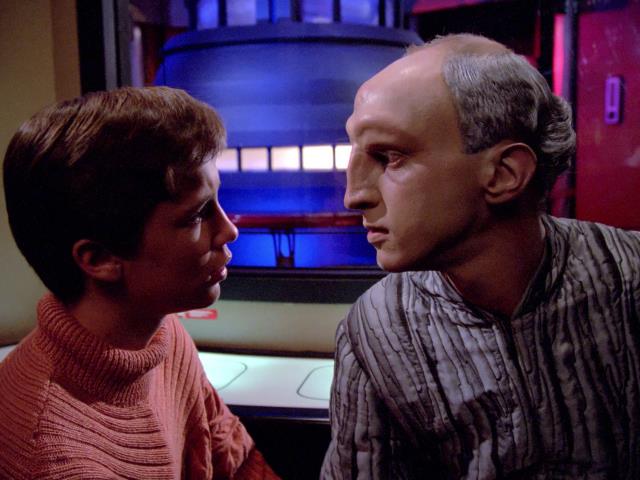 Synopsis
Starfleet engineer Lt. Kosinski and his alien assistant throw the Enterprise 2,700,000 light years to a bizarre galaxy where thoughts become reality.
Guest Cast
Eric Menyuk (The Traveler)
Stanley Kamel (Lt. j.g. Stanley Kosinski)
Biff Yeager (Lt. Commander Argyle, Chief Engineer)
Herta Ware (Maman Picard)
Notes
Wesley is given a field promotion to Acting Ensign.

Lt. Cmdr. Argyle is the first season's longest-running chief engineer.

This episode was nominated for an Emmy award for Outstanding Sound Mixing in a Drama Series.

The Traveler reappears in the 4th season's "Remember Me".

Eric Menyuk was the runner up for the role of Data.
---