Star Trek: The Next Generation
---
"We'll Always Have Paris"
| | |
| --- | --- |
| Episode Number | 24 (1.24) |
| Production Number | 124 |
| Season | 1 |
| Stardate | 41697.9 |
| Original Airdate | 02-May-1988 |
| Teleplay | Deborah Dean Davis & Hannah Louise Shearer |
| Director | Robert Becker |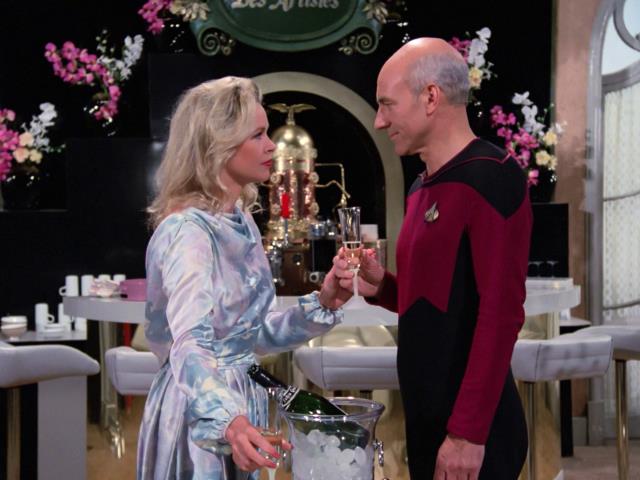 Synopsis
The Enterprise receives a distress call from science outpost Vandor IV. While Data works to repair the time rift caused by Dr. Manheim's experiment, Picard is reunited with his old flame, Jenice — the woman he left behind in Paris when he joined Starfleet 22 years ago.
Guest Cast
Michelle Phillips (Jenice Manheim)
Rod Loomis (Dr. Paul Manheim)
Isabel Lorca (Gabrielle)
Dan Kern (Lt. Dean)
Jean-Paul Vignon (Edourd)
Kelly Ashmore (Francine)
Lance Spellerberg (Transporter Chief Ensign Herbert)
Notes
Michelle Phillips was a member of the 60's music group the Mamas and the Papas.

Even though Tasha Yar died in the previous episode, "Skin of Evil", Denise Crosby's name is listed in the credits for the remainder of the season.
---