Star Trek: The Next Generation
---
"Skin of Evil"
| | |
| --- | --- |
| Episode Number | 23 (1.23) |
| Production Number | 122 |
| Season | 1 |
| Stardate | 41601.3 |
| Original Airdate | 25-Apr-1988 |
| Teleplay | Joseph Stefano and Hannah Louise Shearer |
| Director | Joseph L. Scanlan |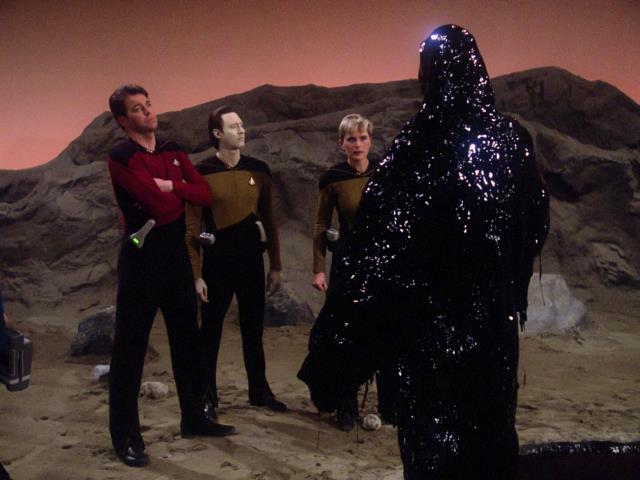 Synopsis
When Troi's shuttle crashes on the planet Vagra II, a sadistic alien named Armus with great power blocks her rescue, kills Lt. Yar and threatens to kill Riker and Troi.
Guest Cast
Mart McChesney (Armus)
Ron Gans (Voice of Armus)
Raymond Forchion (Lt. Ben Prieto)
Walker Boone (Lt. Cmdr. Leland T. Lynch)
Brad Zerbst (Nurse)
Notes
Lt. Worf is made acting Chief of Security.

Denise Crosby left the series because she was unhappy with her character and she wanted to pursue a movie career. She will return as Romulan Commander Sela and guest stars as Lt. Yar in "Yesterday's Enterprise" and "All Good Things..."

This episode was produced before "Symbiosis" but was aired after "Symbiosis" so the production numbers are out of order.
---