Star Trek: The Next Generation
---
"Darmok"
| | |
| --- | --- |
| Episode Number | 102 (5.02) |
| Production Number | 202 |
| Season | 5 |
| Stardate | 45047.2 |
| Original Airdate | 30-Sep-1991 |
| Teleplay | Philip Lazebnik and Joe Menosky |
| Director | Winrich Kolbe |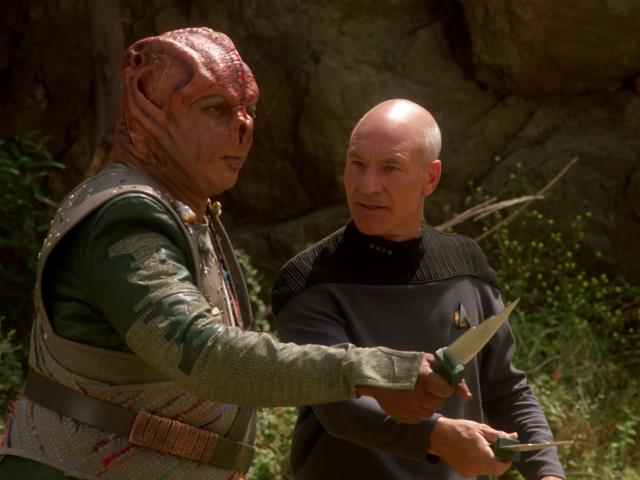 Synopsis
Tamarian captain Dathon has himself and Picard transported to the planet El-Adrel IV where they must fight a dangerous beast and learn to communicate through metaphor.
Guest Cast
Paul Winfield (Captain Dathon)
Richard James (Tamarian first officer)
Colm Meaney (Lt. Miles O'Brien)
Ashley Judd (Ensign Robin Lefler)
Notes
Picard begins wearing a new uniform top: a black and grey under-shirt and a tunic made of leather and red suede.

This episode introduces the new Starfleet warp-capable mid-sized Type-VI Shuttlecraft Magellan.

"Children of Tama" is the name the Tamarians use to describe themselves.

"Darmok and Jalad at Tanagra" indicates an attempt to understand each other by sharing a common experience.

"Sokath, his eyes uncovered" refers to acheiving sudden insight or understanding.

"Shaka, when the walls fell" refers to the inability to understand or be understood.

Ensign Lefler will be featured in "The Game" with Wesley Crusher.
---