Star Trek: Lower Decks
---
"Veritas"
| | |
| --- | --- |
| Episode Number | 8 (1.08) |
| Production Number | 1008 |
| Season | 1 |
| Stardate | 57791.1 |
| Original Airdate | 24-Sep-2020 |
| Teleplay | Garrick Bernard |
| Director | Kim Arndt |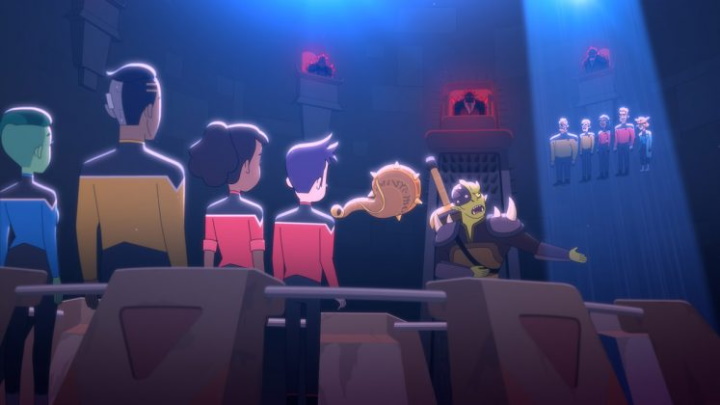 Synopsis
Mariner, Boimler, Tendi, and Rutherford are caught off guard when aliens force them to testify about a series of seemingly unrelated events.
Starring
Tawny Newsome (Ensign Beckett Mariner)
Jack Quaid (Ensign Brad Boimler)
Noël Wells (Ensign D'Vana Tendi)
Eugene Cordero (Ensign Sam Rutherford)
Dawnn Lewis (Captain Carol Freeman)
Jerry O'Connell (Commander Jack Ransom)
Fred Tatasciore (Lieutenant Shaxs)
Gillian Vigman (Dr. T'Ana)
Special Guest Star
John de Lancie ("Q")
Guest Cast
Kurtwood Smith (Imperium Magistrate Clar)
Paul Scheer (Lt. Commander Andy Billups)
Kenneth Mitchell (Captain of the Tweerk)
Ben Rodgers
Brandon Johnson
Notes
This is first appearance of "Q" since the Voyager 7th season episode "Q2" in 2001.

The title Veritas is Latin for "truth."

The "trial" is actually a celebration dinner party. The crew rescued Clar from the Romulans, and he wanted to hear the story so it could be etched into their Great History Stone.

This episode establishes Sam Rutherford's full first name as Samanthan.

Kenneth Mitchell (Captain of the Tweerk) played General Kol in Star Trek: Discovery season 1, first appearing in "The Butcher's Knife Cares Not for the Lamb's Cry".

The startdate isn't given in a log, but from the date of the first flashback testimony.
---