Star Trek: Lower Decks
---
"Much Ado About Boimler"
| | |
| --- | --- |
| Episode Number | 7 (1.07) |
| Production Number | 1007 |
| Season | 1 |
| Stardate | 57752.6 |
| Original Airdate | 17-Sep-2020 |
| Teleplay | M. Willis |
| Director | Barry J. Kelly |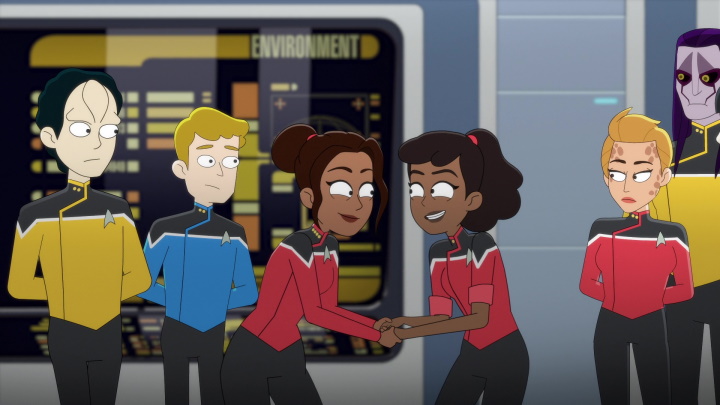 Synopsis
Mariner tries to impress her best friend from Starfleet Academy, who is now a visiting captain. Boimler is sent to a Starfleet medical ship after a transporter accident puts him "out of phase."
Starring
Tawny Newsome (Ensign Beckett Mariner)
Jack Quaid (Ensign Brad Boimler)
Noël Wells (Ensign D'Vana Tendi)
Eugene Cordero (Ensign Sam Rutherford)
Dawnn Lewis (Captain Carol Freeman)
Jerry O'Connell (Commander Jack Ransom)
Fred Tatasciore (Lieutenant Shaxs)
Gillian Vigman (Dr. T'Ana)
Guest Cast
Toks Olagundoye (Captain Amina Ramsey)
Nolan North (Osler Ensign)
Jennifer Hale (Lieutenant Durga)
Vanessa Marshall (Lieutenant Ottessa Warren)
Maurice LaMarche (Lieutenant Drew Prachett)
Notes
Captain Amina Ramsey is commanding officer of the U.S.S. Oakland.

Captain Ramsey has taken over command of the Cerritos while Captain Freeman, Ransom, and Shaxs are off on a "covert mission", complete with undercover uniforms and a cave setting, similar to the Next Generation episode "Chain of Command". There is also a reference to Captain Jellico from that episode.

Boimler and "The Dog" are sent to the Division 14 medical quarantine ship Osler NX-75300, which will take them to "The Farm" on Edicronimas V, which is where officers with uncurable medical issues are sent to be cared for.

The Cerritos rendezvous with the U.S.S. Rubidoux NCC-12109, another California-class starship. The Rubidoux was ultimately consumed by a space entity, which looked very similar to the space entity in the Next Generation premiere "Encounter At Farpoint, Part II". Captain Dayton was the commanding officer (and was voiced by Gillian Vigman).
---