Star Trek: Enterprise
---
"Bound"
| | |
| --- | --- |
| Episode Number | 93 (4.17) |
| Production Number | 93 |
| Season | 4 |
| Stardate | 27-Dec-2154 |
| Original Airdate | 15-Apr-2005 |
| Teleplay | Manny Coto |
| Director | Allan Kroeker |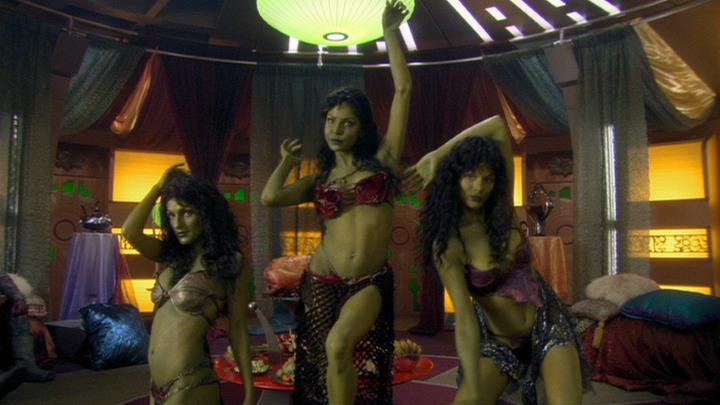 Synopsis
After Archer forges a deal with the Orions, the trader presents the captain with a gift — three alluring Orion women who proceed to seduce all the men on board except, mysteriously, Trip.
Guest Cast
William Lucking (Harrad-Sar)
Cyia Batten (Navaar)
Derek Magyar (Commander Kelby)
Crystal Allen (D'Nesh)
Menina Fortunato (Maras)
Christopher Jewett (Crewman #1)
Duncan K. Fraser (Crewman #2)
Notes
We learn that Orion women are the ones who are in control — the men are slaves to their bidding.

The Orion women emit a pheromone which affects the entire crew, except for T'Pol, whose Vulcan physiology is immune. The pheromone causes headaches in the women and it causes Phlox to become tired. T'Pol's mating bond with Trip renders him immune as well.

T'Pol finally admits her feelings for Trip, who tells her that he already asked Captain Hernandez for a transfer back to Enterprise.

Kelby had problems getting along with Trip early on because he feels that Trip's presence on Enterprise threatened his promotion. Apparently he was right because Trip does indeed call Kelby "Lieutenant" instead of "Commander" and then later reveals that he requested a transfer back to Enterprise.
---