Star Trek: Enterprise
---
"A Night in Sickbay"
| | |
| --- | --- |
| Episode Number | 31 (2.05) |
| Production Number | 30 |
| Season | 2 |
| Stardate | |
| Original Airdate | 16-Oct-2002 |
| Teleplay | Rick Berman & Brannon Braga |
| Director | David Straiton |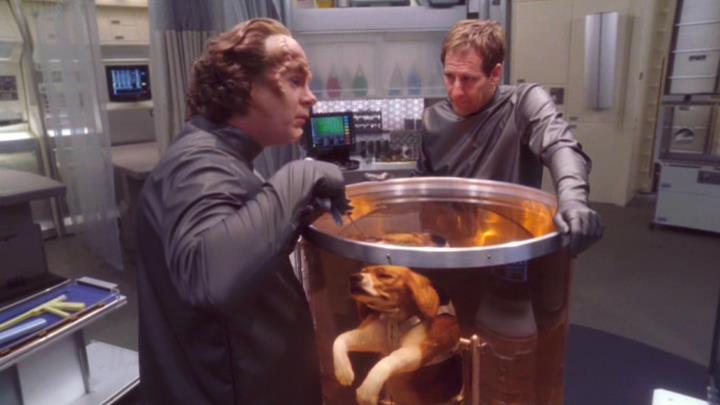 Synopsis
After Porthos catches a life-threatening disease on the Kreetassan homeworld, Archer spends a fretful night in sickbay with Porthos and Dr. Phlox.
Guest Cast
Vaughn Armstrong (Kreetassan Captain)
Notes
The Kreetassans are offended this time because Porthos urinated on a sacred tree. Once Archer performs the complicated ritual, they give him three spare plasma injectors.

Vaughn Armstrong, the guest star of a thousand faces, also plays Starfleet Admiral Forrest. Here, he is reprising his role as a Kreetassan, first seen in "Vox Sola".

This episode is often cited when Trek Fanboys give examples of why they hate Star Trek: Enterprise.
---