Star Trek: Enterprise
---
"Shockwave, Part I"
| | |
| --- | --- |
| Episode Number | 26 (1.26) |
| Production Number | 26 |
| Season | 1 |
| Stardate | |
| Original Airdate | 22-May-2002 |
| Teleplay | Rick Berman & Brannon Braga |
| Director | Allan Kroeker |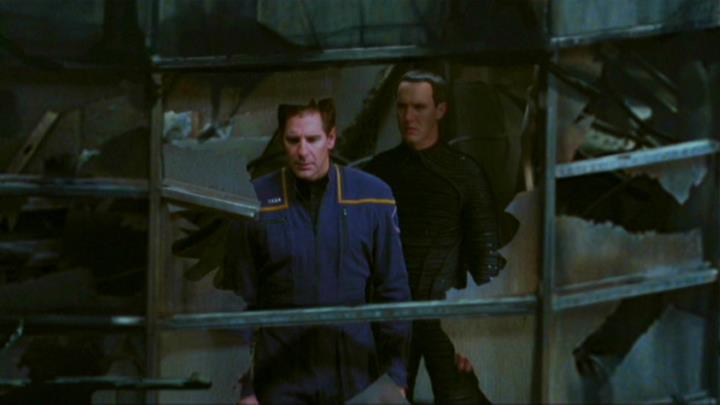 Synopsis
After apparently causing the obliteration of an alien colony, Enterprise is ordered to return to Earth, until a surprise visitor offers Archer startling evidence about what really happened...
Guest Cast
John Fleck (Silik)
Matt Winston (Daniels)
Vaughn Armstrong (Admiral Maxwell Forrest)
James Horan (Humanoid Figure)
Stephanie Erb (Receptionist)
David Lewis Hays (Tactical Crewman)
Notes
The Paraagan colony was a mining outpost. Tetrazine gas is produced as a by-product of their mining operation. Strict landing protocols have to be followed to prevent exhuast plasma from igniting the gas. The shuttle was sabotaged with a plasma generator by the Suliban.

The Humanoid Figure demands that Silik bring him Archer, but Daniels intercepts him before the Suliban capture him. When Archer steps off the turbolift in the 31st century which has been totally destroyed.

Daniels was supposedly killed by Silik in "Cold Front".
---