Star Trek: Enterprise
---
"Shockwave, Part II"
| | |
| --- | --- |
| Episode Number | 27 (2.01) |
| Production Number | 28 |
| Season | 2 |
| Stardate | Unknown (Year 2152) |
| Original Airdate | 18-Sep-2002 |
| Teleplay | Rick Berman & Brannon Braga |
| Director | Allan Kroeker |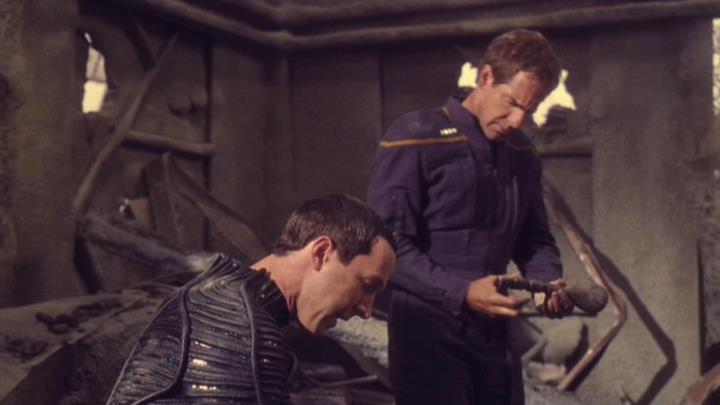 Synopsis
While Enterprise and its crew are held hostage by the Suliban, Archer and Daniels are stuck in the 31st century working to find a way to get back to Enterprise and repair the timeline.
Starring
Scott Bakula (Captain Jonathan Archer)
Jolene Blalock (Sub-Commander T'Pol)
John Billingsley (Doctor Phlox)
Linda Park (Ensign Hoshi Sato)
Anthony Montgomery (Ensign Travis Mayweather)
Dominic Keating (Lieutenant Malcolm Reed)
Connor Trinneer (Commander Charles 'Trip' Tucker III)
Guest Cast
John Fleck (Silik)
Matt Winston (Daniels)
Vaughn Armstrong (Admiral Maxwell Forrest)
Gary Graham (Ambassador Soval)
Keith Allan (Raan)
Jim Fitzpatrick (Commander Williams)
Michael Kosik (Suliban Soldier)
Notes
Daniels and Archer are able to send back a communication to T'Pol. They have Reed retrieve a device from Daniels' quarters, which they fool Silik into thinking it's a device to communicate with his future contact, but the device transfers Archer back.
---