Star Trek: Enterprise
---
"Cold Front"
| | |
| --- | --- |
| Episode Number | 11 (1.11) |
| Production Number | 11 |
| Season | 1 |
| Stardate | |
| Original Airdate | 28-Nov-2001 |
| Teleplay | Stephen Beck & Tim Finch |
| Director | Robert Duncan McNeill |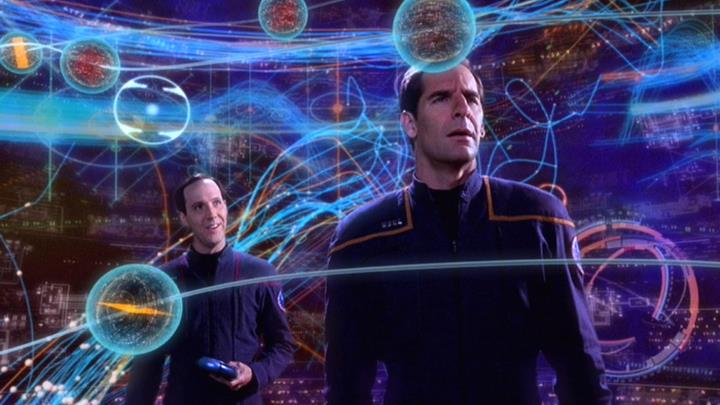 Synopsis
While Enterprise joins an alien pilgrimage to witness a religious stellar occurrence, Archer finds himself again faced against the Suliban warrior Silik.
Guest Cast
John Fleck (Silik)
Matt Winston (Crewman Daniels)
Michael O'Hagan (Captain Fraddock)
Joseph Hindy (Prah Mantoos)
Leonard Kelly-Young (Sonsorra)
Lamont D. Thompson (Alien Pilgrim)
Notes
Daniels reveals that he is from 900 years into the future, sent to stop Silik and the "Temporal Cold War". A Temporal Accord was signed by species with time travel ability to limit its use to research. Some factions broke the treaty, starting the Temporal Cold War.

The crew has 50,000 movies in its database. The crew viewed Night of the Killer Androids on movie night.

Director Robert Duncan McNeill played Tom Paris on Star Trek: Voyager.
---