Star Trek: Enterprise
---
"Fallen Hero"
| | |
| --- | --- |
| Episode Number | 23 (1.23) |
| Production Number | 23 |
| Season | 1 |
| Stardate | Feb. 9, 2152 |
| Original Airdate | 08-May-2002 |
| Story | Rick Berman & Brannon Braga and Chris Black |
| Teleplay | Alan Cross |
| Director | Patrick Norris |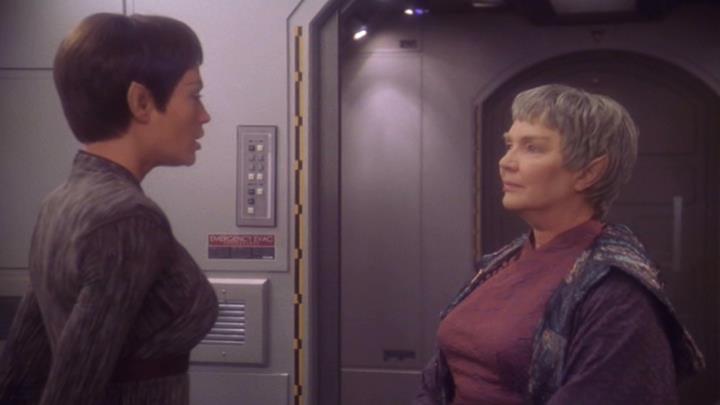 Synopsis
Archer is ordered to transport Vulcan Ambassador V'Lar, an early role model of T'Pol's, from planet Mazar where her integrity has been called into question.
Guest Cast
Fionnula Flanagan (Ambassador V'Lar)
John Rubinstein (Mazarite Captain)
Vaughn Armstrong (Admiral Maxwell Forrest)
J. Michael Flynn (Mazarite Official)
Dennis Howard (Vulcan Captain)
Porthos
Notes
T'Pol notes that crew effeciency is down and suggests that they take shore leave on Risa.

V'Lar has been gathering evidence on corrupt Mazarite government officials.

V'Lar negotiated territorial disputes between Vulcan and Andoria, before first contact with Earth.

The phase cannons can only operate when the ship is out of warp.

Enterprise travels at warp 4.9 while trying to outrun the Mazarites, which is a Starfleet record.

Fionnula Flanagan previously played Data's mother, Juliana Tainer, in the Next Generation episode "Inheritance" and Enina Tandro in the DS9 episode "Dax".
---