Star Trek: Enterprise
---
"Acquisition"
| | |
| --- | --- |
| Episode Number | 19 (1.19) |
| Production Number | 19 |
| Season | 1 |
| Stardate | |
| Original Airdate | 27-Mar-2002 |
| Story | Rick Berman & Brannon Braga |
| Teleplay | Maria Jacquemetton & André Jacquemetton |
| Director | James Whitmore, Jr. |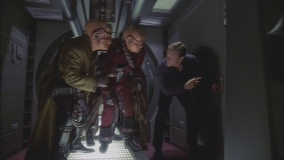 Synopsis
When a group of intergalactic thieves stun the Enterprise crew and try to rob the ship, it's up to Trip to work covertly to stop them.
Guest Cast
Jeffrey Combs (Krem)
Ethan Phillips (Ulis)
Clint Howard (Muk)
Matt Malloy (Grish)
Notes
The pirates are Ferengi, but the crew does not know their species.

Official first contact with the Ferengi occurs in the Star Trek: The Next Generation episode "The Last Outpost".

Jeffrey Combs, who plays recurring Andorian character Commander Shran on Enterprise, also played recurring Ferengi character Brunt on Star Trek: Deep Space Nine.

Ethan Philips also played Neelix on Star Trek: Voyager, in addition to playing Ferengi Dr. Farek in The Next Generation episode "Ménage à Troi".

Trip was in decon when the Ferengi gassed the ship. He spends a half of the episode in his blue Starfleet underwear.
---