Star Trek: Enterprise
---
"Oasis"
| | |
| --- | --- |
| Episode Number | 20 (1.20) |
| Production Number | 20 |
| Season | 1 |
| Stardate | |
| Original Airdate | 03-Apr-2002 |
| Story | Rick Berman & Brannon Braga & Stephen Beck |
| Teleplay | Stephen Beck |
| Director | Jim Charleston |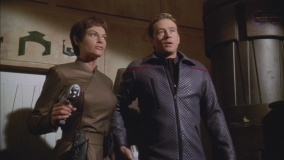 Synopsis
The crew is directed to a derelict ship on a barren planet that they can salvage for supplies, and learn that rumors the shipwreck is haunted may not be unfounded.
Guest Cast
Tom Bergeron (D'Marr)
Rene Auberjonois (Ezral)
Annie Wersching (Liana)
Rudolph Willrich (Kuulan)
Claudette Sutherland (Maya)
Notes
Rene Auberjonois previously played Odo on Deep Space Nine.

The crew learns that Ezral and his daughter Liana are the only survivors of the crashed ship. Ezral created the rest of the crew with holographic technology so that his daughter did not grow up alone.
---